Best YouTube Channels for "Let's Play" Video Game Playthroughs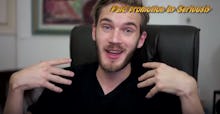 Mic/YouTube
While there are a variety of YouTube channels available for wide-ranging subjects such as makeup tutorials, movie reviews and fitness tips, the most popular — and populous — YouTube channels revolve around the "Let's Play" phenomenon. "Let's Play" is, quite simply, a documented playthrough of a video game, typically complemented with commentary from the player. The appeal of these playthroughs are not so much the video games themselves, but rather, the personality of the gamer in question — after all, anybody can play, or watch, a video game. 
Read more: 
"They are incredible radio hosts, comedians, writers and on-air personalities," Machinima chief content officer Dan Tibbets told Business Insider. "When you really look at it, it's a group of storytellers and filmmakers."
With such a vast number of channels and YouTube personalities to choose from, it can be difficult to whittle down the best of the bunch for the uninitiated. Here are six popular "Let's Play" channels, each with their own merits. 
PewDiePie
PewDiePie, whose real name is Felix Kjellberg, sits at the pinnacle of "Let's Play" video game popularity. He has the most subscribers on YouTube — over 40 million and counting — and earns millions of dollars a year. This is possible, of course, because he has an infectious on-screen personality and can carry running gags throughout his playthroughs. 
During his playthrough of the horror video game Amnesia: The Dark Descent he carried around a small statue named Stephano and gave it its own identity and personality, with a heavy French accent to boot. Broadly, PewDieDie's brand of humor reaches a lot of people, though at times it veers toward unnecessary, profanity-laced verbal tirades and childish squeals. It might not be for everyone, but PewDiePie's position as the King of YouTube likely won't fade any time soon. 
Two Best Friends Play
Originally on the gaming entertainment network Machinima, the Two Best Friends Play series has now ventured off into becoming its own channel, and it's still as crass as ever. The idea is simple: Two close friends with contrasting personalities, named Matt and Pat, play video games together. Things usually don't go quite as planned, and the two banter constantly over the merits of the game and how bad the other one is — just amplified with a lot of profanity-filled tirades. 
Continue?
The Continue? channel is, by all means, a throwback. The gamers on the show do playthroughs of retro games until they run out of "continues" — in other words, if they run out of lives, or if they decide to stop playing the game. For a lot of subscribers, it serves as a ride of nostalgia for some of the original video games made — and it's oddly relatable to see grown men swearing about the same glitches and problems with a game that you might have encountered as a kid. 
Markiplier 
Markiplier (Mark Fischbach) has a near-PewDiePie level of popularity, and has employed similar humorous concepts to great effect, with notable catchphrases and unforgettable gut reactions to playing horror games. Furthermore, he has a deep, radio announcer's voice that gives his videos an ultra-crisp styling. _ 
Perhaps best of all is his constant willingness to donate to charity. He's had livestreams of his "Let's Plays" on the streaming service Twitch to raise money for charity on several occasions, including raising over $75,000 in 2015 for the Depression and Bipolar Support Alliance, according to Tubefilter.
CaptainSparklez 
CaptainSparklez (Jordan Maron) undergoes several playthroughs — though he focuses heavily on the ever-popular  Minecraft. However, his most notable content includes unique Minecraft-themed music videos. Though he originally created the videos as covers for popular pop culture phenomenons, such as "Gangnam Style," he now creates his own music videos and original lyrics. It's the kind of versatility and creativity that's hard to find among the majority of "Let's Play" gamers. 
Yogscast Hannah 
Though part of a broader group of YouTube broadcasters under the Yogscast moniker, Yogscast Hannah's (Hannah Rutherford) playthroughs stand out as the best of the bunch. Unlike the majority of "Let's Play" channels, Hannah's are informative, detailed and riddled with subtle and dry humor, rather than just straightforward slapstick one-liners.