Yeezy Boost 1050 Boots Are Possibly Dropping With Yeezy Season 3 — Check Them Out Here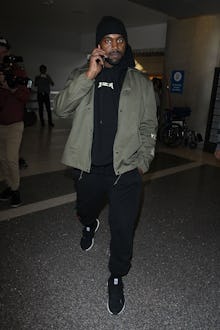 Vantagenews.com/AP
Kanye West is revealing his next line of sneakers ahead of his Thursday multi-release event in New York City, where the rapper and fashion designer will debut his forthcoming album, the title of which is still a mystery, and Yeezy Season 3 fashion line. As it turns out, West is sweetening the pot with a fresh new pair of boots to go along with the latest addition to his fashion collaboration with Adidas: the never-before-seen Yeezy 1050s. 
The 1050 collection includes a number of different color ways for the boots, which West teased in a series of photos to Twitter on Monday night. The shoes also appear to pair nicely with additional Yeezy items, including a pair of matte purple socks and blood-red gloves with black palms.
Read more:
West teased his latest fashion release just ahead of New York Fashion Week, which begins next week. Meanwhile, the artist is having fans guess on Twitter as to what his album's name might be, so there's that. Check out photos West released ahead of the Feb. 11 showing, including the Yeezy 1050s, below:
While the designer has been criticized for his first two Yeezy Season collections looking incredibly similar to each other, his sneakers are praised as some of the most coveted shoes in the world. The 1050s are the tallest of his Adidas collaboration, and will likely be the biggest departure from his usual looks when Yeezy Season 3 is finally unveiled at Madison Square Garden Thursday.
Regardless of what it is West is promoting, his loyal fan base hungrily awaits: