Donald Trump Scores a Huge New Hampshire GOP Primary Win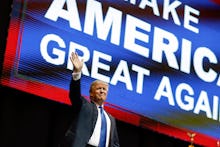 Donald Trump stormed to victory in New Hampshire's first-in-the-nation Republican primary Tuesday, notching a decisive win in his break-all-the-rules bid for the presidency.
The Manhattan mogul had been the far-and-away favorite coming into the Granite State vote, leading his closest rival, Marco Rubio, by about 17 points per a RealClearPolitics poll average.
After a second-place finish to Ted Cruz in in the Feb. 1 Iowa caucuses that left him striking a humbler tone — albeit very briefly — Trump hit the trail hard in New Hampshire, and it paid off.
It wasn't all the stumping: ABC News' preliminary exit polls painted a picture of a Granite State Republican electorate whose views skewed toward Trump's own hawkishness on hot-button issues such as immigration.
Half of Republicans in New Hampshire, where voters pride themselves on raking candidates over the coals before promising their support, also expressed a notable disdain for inside-the-Beltway retreads, ABC tweeted. That change-thirsty sentiment dovetailed well with the pitches of GOP hopefuls like Trump and Chris Christie.
Trump rode to victory in a primary that attracted more self-identified "strong" conservatives than the 2012 primary by 21 points. As usual, ABC noted, the turnout among voters who describe themselves as evangelical was lower in New Hampshire than in Iowa, where they helped propel Cruz to his first-place standing.
The final stretch of New Hampshire campaign certainly had a few bumps: Trump got booed during the final GOP debate at St. Anselm College, and shocked some voters' sensibilities when he echoed a rallygoer who referred to Cruz as a "pussy."
As in Iowa, Trump deployed his kids — sons Donald Jr. and Eric and daughter Ivanka — to crisscross the state on his behalf.
Ivanka greeted voters at poll sites and wooed patrons at a diner, while her brothers cruised a deli for votes and teamed up for a "meet and greet" at the Newington, New Hampshire, offices of arms manufacturer Sig Sauer.