Bernie Sanders Trounces Hillary Clinton to Win New Hampshire Democratic Primary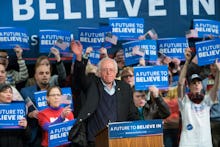 CONCORD, N.H. — Insurgent presidential candidate Bernie Sanders trounced Hillary Clinton in the New Hampshire Democratic primary, delivering the former secretary of state's campaign juggernaut a setback in the state that helped revive her 2008 White House bid.
The Associated Press called the race for the Vermont senator shortly after the final polls closed at 8 p.m. Eastern.
Sanders was fueled by the support of a liberal Democratic electorate in his neighboring state, where primary voters cited income inequality and the economy as their most pressing concerns. Exit polls indicated that Democrats valued "honesty and trustworthiness" most of all, and Sanders held an overwhelming advantage among those voters. One in seven voters was under the age of 30, and high turnout in the state led to miles-long lines of those waiting to vote.
In a rousing victory speech later in the evening, Sanders proclaimed, "We have sent a message that will echo from Wall Street to Washington, from Maine to California."
Sanders' victory comes as little surprise. He has led Clinton in every single survey of the Granite State except for one since the New Year, according to the RealClearPolitics polling database. Steeling for a likely loss, Clinton's campaign has focused in recent weeks on holding down Sanders' margin of victory, confident that she can bounce back in later-voting, more diverse states.
"You know, there's a lot of states," Clinton campaign manager Robby Mook told the Los Angeles Times on Saturday. "This is a delegate race. We're not looking to win every single contest, every single time."
In final two weeks before Tuesday's vote, Sanders outspent Clinton by a margin of three-to-one on the New Hampshire airwaves, Politico reported on Monday.
Sanders country: For months, it's been clear that New Hampshire was the likeliest state to deny Clinton an early-state win. Propelled by grassroots enthusiasm for his message of combating inequality and corporate interests, Sanders surged in the polls over the summer, briefly surrendering his lead this fall but recovering it decisively in January, as the Democratic race tightened nationally.
A wily state with an affinity for political mavericks and outsiders, New Hampshire proved fertile ground for Sanders for reasons well beyond his geographical proximity to the state. Under New Hampshire's rules, independents may vote in either party's primary, a boon to the longtime independent. 
Sanders' victory comes one week after he fought Clinton to a near-draw in the Iowa caucuses, losing the Hawkeye State by only a 0.3-percentage-point margin.
An unlikely battle: With two contests down and Clinton yet to score a decisive victory over Sanders, the once-inevitable candidate finds herself in a place few envisioned her even six months months ago: locked in a fiercely contested delegate battle with a 74-year-old democratic socialist who has never formally joined the Democratic Party and has proudly spurned the Washington establishment throughout his 25-year career in Congress.
But Sanders now faces a crucial new test: whether he can parlay his strong showing in Iowa and his victory in New Hampshire into strength in less lily-white states, particularly Nevada, which holds its caucuses on Feb. 20, and South Carolina, where Democrats head to the polls on Feb. 27. Polling of the two states has been sparse, but the most recent surveys in both show Clinton with healthy leads over Sanders.
Even if Clinton prevails in the two states, though, Sanders' strong support among party progressives and his remarkable fundraising prowess will likely keep the Democratic race going well into the spring — long past the point many observers once expected Clinton to have sewn up the nomination.