9 Best Actors Who Have Never Won an Oscar but Definitely Deserve One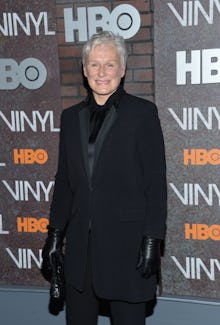 Evan Agostini/AP
The internet's had a long, hard laugh at Leonardo DiCaprio's expense over his lack of an Academy Award, but that may change this year after his physically and emotionally exhausting role in The Revenant. With it, one of the most acclaimed modern actors would finally capture an elusive, and arguably much-deserved, win. 
However, several prominent actors have never won an Oscar — some of whom have almost been nominated as many times as DiCaprio. Here are nine of the most deserving. 
Read more:
Glenn Close
Close has had six Oscar nominations with no wins — the third highest in the history of the awards for an actor who hasn't claimed one, according to Business Insider. Depending on the generation, Close can be associated with many iconic roles, including Alex Forrest in Fatal Attraction and the titular character Albert Nobbs in Albert Nobbs (heck, even Cruella de Vil in 101 Dalmatians). Her career-long success is more than worthy of such accolades. 
Tom Cruise 
It's been 16 years since Cruise was nominated for an Oscar, and has since transitioned to high-octane blockbuster films such as the ongoing Mission: Impossible series. However, the three films in which he was nominated for best actor — Magnolia (supporting role), Jerry Maguire and Born on the Fourth of July (both leading role) — all lost out to worthy winners, including the likes of Daniel Day-Lewis and Michael Caine. His performance in Jerry Maguire, in particular, demonstrated an on-screen enthusiasm and energy that felt reminiscent of his iconic Risky Business dance scene. 
Hugo Weaving
While he's assumed some incredible sci-fi villain and anti-hero roles, including Agent Smith in The Matrix, V in V for Vendetta and the Red Skull in Captain America: The First Avenger, Weaving has failed to translate his nerdy popularity into recognition from the academy. In fact, Weaving has yet to even be nominated for an Oscar.
However, Weaving has demonstrated rare versatility and range, earning credits from voice work in Babe: Pig in the City, Happy Feet, Happy Feet Two and several characters in the multifaceted, generation-spanning Cloud Atlas. 
Donald Sutherland
Though he is presently associated with President Snow in the film adaptation of The Hunger Games novels, Sutherland and his trademark surly voice has captivated audiences for years. While he hasn't been nominated for an Oscar, he has been recognized for various roles in television miniseries and films adapted for TV. 
One of his most memorable parts dates back to 1991, in Oliver Stone's JFK. While it's only a cameo, Sutherland's character, X, is not only providing thoughtful exposition but blows the movie's scope wide open — revealing confidential information about President John F. Kennedy's assassination. 
Alan Rickman
We're still collectively mourning over Rickman's unexpected death last month, and the several amazing roles in his storied career. Rickman's acting versatility was one of his best traits. He was just as good playing a villainous character such as Hans Gruber in Die Hard to the humble and charming Colonel Brandon in Sense and Sensibility. 
His best-known role, undoubtedly, is the emotionally complex Severus Snape in the Harry Potter series. Snape's allegiances and motivations are difficult to gauge until the final, climactic reveal in the final film — that Snape was on Harry's side the whole time. In hindsight, Snape becomes a character fans loved to hate, to a character fans simply loved and admired. 
Steve Buscemi
It's hard to picture Buscemi as anything but the typecasted creepy and weaselly guy in a movie, but even so, he has to be considered one of the best character actors the industry can offer. Moreover, after his role as Nucky Thompson in Boardwalk Empire, it's safe to say — when given the chance — Buscemi can expand his role and be an imposing onscreen presence. 
Though his co-star for the 1996 film Fargo William H. Macy was nominated for an Oscar for that role, Buscemi could have easily replaced him as the scuzzy and unforgettable Carl Showalter. 
Jeff Daniels
It's unfair — and a bit insulting — to only associate Daniels with his role in the Dumb and Dumber films. He can certainly offer more than that. In between these admittedly silly parts, Daniels has put together some impressive performances across television and film. 
Most recently, he earned an Emmy Award for his multilayered performance as Will McAvoy in HBO's The Newsroom, though he's yet to earn the same accolades in film. To pick one out from the bunch, though, it's tough to argue with the pompous Bernard Berkman in 2005's The Squid and the Whale. 
Joaquin Phoenix
While he himself has called the Academy Awards hype "total, utter bullshit," it's quite surprising that Phoenix has yet to win one — though at least he's been nominated three times. Take your pick between the likes of Gladiator, Her, Walk the Line and The Master, Phoenix has a reel of Oscar-worthy performances at the age of 41. 
What's more, he has a tendency to completely change his appearance at a moment's notice with varying roles, giving him a Daniel Day-Lewis-esque vibe to his persona. Of course, given how much recognition Day-Lewis receives with any film, that certainly puts him in good company. 
Meg Ryan
Ryan's roles haven't always been home runs, but when she's on, her comedic timing and understated charm is wholly deserving of national awards. Shockingly, she's never been nominated for an Academy Award, and has yet to win a Golden Globe in three tries. 
If any of her roles were worthy, it would be the classic romantic comedy, When Harry Met Sally alongside co-star Billy Crystal.