"Pep Rally" Lyrics: Meaning of Missy Elliott's Latest Song, Released on Super Bowl Sunday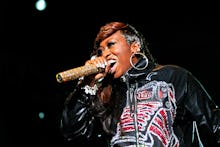 Joan Leong/AP
During a super pricey advertisement on Super Bowl Sunday, American hip-hop queen Missy "Misdemeanor" Elliott surprised fans with a banger of a single, the appropriately titled "Pep Rally." The dance-inducing track follows Missy Elliot's long-awaited return to releasing material, after she tapped recording artist and producer Pharrell Williams to lend his talents to "WTF (Where They From)," which came late last year accompanied by a showstopping music video. 
Unfortunately, a visual accompaniment for "Pep Rally" has yet to be released, though judging by the artist's triumphant music video return in recent months, the outlook seems promising.
Read more:
Lyrics: It's unclear if "Pep Rally" was written with the specific intention to be premiered during a Super Bowl halftime, or if the next single on deck for release just happened to be ultra sporty. "Pep rally, my friends be at the pep rally," Missy Elliott raps on the track.
"Screaming and shaking, man, we at the pep rally/ Aw, aw, aw, go 'head and dip at it/ The go-go playing my jam, now let me shake my jelly/ Jumping and thumping, man, I got the crowd yelling."
She continues, "Get it, and kick it, kick it, kick it, there's no telling/ Aw, aw, aw, you better move Ellen/ I got a nice round woo like a watermelon/ Aw, yeah you play the point guard/ Hitting three corners, man, they playing real hard/ My team be with it, yeah, so keep your day job/ I turn around and make it bounce like a basketball."
Later, the track repeats a refrain that feels like a call to action (as if the song's aesthetic weren't convincing enough): "It goes left foot, it goes right foot," Missy Elliott raps. "It goes left foot, it goes right foot/ Catch the wall, touch them toes/ Turn around like it's gold/ Back it up, back it up, so you know you got control." Full lyrics to "Pep Rally" can be found on Genius. 
Though many Missy Elliott fans fell over themselves with joy and words of praise after the song was made public, it wasn't met without a tiny bit of criticism. 
"The vibe is supposed to be 'Friday night on Bourbon Street,' but comes across more like 'Friday Night on Bourbon Street on Super Bowl Weekend presented by Hyundai,'" wrote Pitchfork's Corban Goble. "Missy is asserting her energy — it's great to hear! — but 'Pep Rally' feels a little too straight-on."
"WTF (Where They From)" came to fans a decade after the recording artist released her sixth studio album, The Cookbook, and after a period of health complications for the recording artist, according to Pitchfork. While we wait for the queen to drop her next music video, take this as an opportunity to re-watch "WTF (Where They From) and remember why, after all these years, the throne's still hers.