What the First Designer to Ever Show Plus-Size Clothes at Fashion Week Wants Us to Know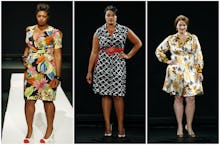 On Sept. 6, 2013, fashion designer Eden Miller made history. 
For the first time ever at New York Fashion Week, an entire plus-size collection, modeled on plus-size models, walked down the runway. Never before had a designer who specialized in plus-size clothes, as Miller does with her line Cabiria, reached that level of success. 
Naturally, after models who were a size 12 or higher strutted down the runway in Miller's original designs, which consisted of patterned dresses and knee-length skirts, the show received international press, praise and all the hype you could imagine. 
But then, nothing really happened. In the two or so years since Miller's show, the middling state of clothing for curvier women, not to mention their representation in fashion and media, hasn't improved much. Yes, there is a growing social media movement around body positivity, and a number of "plus-size models" like Ashley Graham are gaining notice, even by traditional outlets like Sports Illustrated. 
But plus-size clothing, even though it's worth a reported $17.5 billion, is still a relatively untapped market by major designers. Mannequins are still slim. Magazines are filled front to back with size 2 models. Size 14 shoppers must still shop mostly online, since their clothes aren't actually in stores. "Plus-size" clothes are still so uncool and untrendy that young women have shunned the label, preferring the less dated (and more accurate) word "curve."
It's something Miller predicted in 2013 when she told Refinery29, "We might have a movement that we can roll with. But, it needs more than me." 
The kickoff of New York Fashion Week today will invite the inevitable scrutiny of plus-size representation. We take the data, we make the charts, praise the change-makers and shame the excluders. But as Miller told Mic in an interview ahead of Fashion Week, if we want actual change for plus-size shoppers, we're training our focus on the wrong place.
High fashion's resistance to "normal": According to Miller, to change plus-size fashion and increase the overall inclusion of plus-size women, we shouldn't be looking to the runways or high fashion at all. 
"Fashion is not about normalcy and they're not going to be bucking this fashionable ideal," Miller told Mic rather bluntly. 
By its very nature, the clothing of runway shows are a heightened version of style, the kind of aspirational fantasies worthy of their own shows. If fashion shows were about reflecting reality, then we might expect Old Navy and Gap to stage Fashion Week shows. We might expect the Michael Kors show to include lots of jeans, since that's what more people buy, and for Chanel to focus mainly on the lower-priced makeup we actually buy, versus the gowns we could never afford.
Plus — newsflash — most of the general population probably doesn't see the fashion shows at all. If we're talking about plus-size visibility creating change, it may be time to reconsider that high fashion is the root of all of our problems. Instead, we can re-shift our gaze to more accessible places, the places that communicate what a "normal" body looks like and what clothing should be out there.
Runways are, simply, not where change is going to take place. 
Making change where people are looking: "Having a fat, stylish woman owning it and owning her right to be in the world is probably going to legitimize fat fashion more than a one-off in a fashion show," Miller said.
That means popular culture, for starters. Change may be more possible when women like Howard are celebrated — or, say, when women like Rebel Wilson and Melissa McCarthy land on the covers of fashion magazines or on best-dressed lists. 
"I think it's not being done on the runway," Miller continued. "Having Brittany Howard [the lead singer of Alabama Shakes] out there and being a bonafide rockstar and having people not say, 'Oh, she's a fat girl and a rock star' is what matters. Having that in the social sphere is going to be much more influential."
In addition, fashion isn't quite exempt, but it's the mainstream, "regular" brands that may have the most power, not the ones at Fashion Week. If we care about plus-size progress starting in the right places, where people can feel its effects, then, perhaps, the real pressure should be on the brands and stores that touch real women, like J.Crew or Banana Republic or Urban Outfitters.
Selling plus-size clothing, advertising with plus-size models, or hell, even using curvier mannequins can help chip away at the stigma and lack of options bigger women face. It's about killing two birds with one stone: more quality and bigger-sized clothing options for shoppers, as well more visibility and acceptance for female bodies above a size 2.
That's what, for example, brands like Modcloth, Target Australia and SmartGlamour are doing. SmartGlamour, a size-inclusive clothing company, uses models of all ages, sizes, abilities and genders. The clothes are affordable and they're available online. It's not a huge line, but it is far more accessible than a label like Chanel — and it's making change, unlike most brands you see in the mall.
"When I bring together a group of models  — of every size, shape, height, weight, ethnicity, ability and identity — and I place them all on an equal playing field, I remove competition and dress them all in the same outfits and magic happens," Mallorie Dunn, SmartGlamour's founder and designer, told Mic. "It's comfortable, it's empowering and it curates an environment where everyone can root for one another. That's the kind of world I'd like to live in — so I create it."
Sure, high-fashion brands like Chanel should still open up their casting calls for curvier models. And they should do so, ideally, in a seamless way that accepts, rather than calls out as an oddity, those models, as Marc Jacobs arguably did with punk rock singer Beth Ditto walking in his show. 
But while we wait for that day, it may be worth shifting energy to the places where change can actually happen — namely, the clothing brands, ads and media that establish our societal "normal" every day.