How Many Grammys Has Kendrick Lamar Won?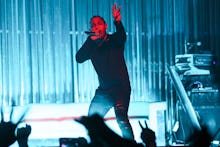 Rich Fury/AP
Rapper and Compton, California native Kendrick Lamar is leading this year's Grammys nominated pack with a whopping 11 nominations, including every rap category, album of the year with To Pimp a Butterfly and song of the year with "Alright." This year's likely wins would make major strides in hip-hop's current level of recognition with the Grammys. 
Lamar has previously won two Grammys in 2015: best rap performance and best rap song with his song "i." The song was off of his March 2015 chart-topping, record-breaking album To Pimp a Butterfly. 
For best rap performance, Lamar won against Childish Gambino's "3005"; Drake's "0 to 100/The Catch Up"; Eminem's "Rap God" and Lecrae's "All I Need Is You." For best rap song, his "i" beat Nicki Minaj's "Anaconda"; Kanye West and Charlie Wilson's "Bound 2"; Wiz Khalifa's "We Dem Boyz" and Drake's "0 to 100/The Catch Up."
Read more:
After winning his 2015 Grammys, Lamar released the sociopolitically-influenced single called "The Blacker the Berry."
In 2014, Lamar was nominated for seven Grammys, including best new artist, best rap album for Good Kid, M.A.A.D City and best rap performance. He went home with none, and was considered snubbed by Macklemore & Ryan Lewis, Billboard reported. 
"[The Grammy defeats] would have been upsetting to me if I'd known that was my best work, if I had nothing new to offer," Lamar told Billboard. "Good Kid, M.A.A.D City is great work, but it's not my best work. To Pimp a Butterfly is great. I'm talking about the connection the record made. Good Kid, M.A.A.D City made a connection. But To Pimp a Butterfly made a bigger connection."