This Globetrotting Baby Sums up Everything You Love and Hate About Instagram Culture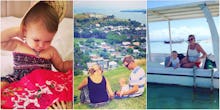 This is Esme.
Esme is 1 year old, which means she is a baby. Babies are basically only good at two things: shitting themselves and eating Cheerios, often at the same time. Yet, Esme is probably cooler, hotter and way more cosmopolitan and better-traveled than you. 
That's because Esme is the daughter of Karen Edwards, 31, aka travelmadmum, a former nurse whose Instagram, which features her and her family gallivanting around in various exotic locations, has nearly 15,000 followers.
Over the course of her short time on Earth — which, reminder, is less time than there has been a new version of the iPhone — Esme has been to Asia. She's been to Australia. She's been to New Zealand. She's even been to Slovenia. Have you been to Slovenia? Do you know what Slovenia is? Could you find Slovenia on a map? Didn't think so, you fucking philistine. 
Here is Esme posing in exotic locations that are beyond your wildest dreams. 
Esme in Nusa Dua, Indonesia: Remember when you saved up every one of your vacation days so you could go to Indonesia? Yeah, what happened to that plan? You blew all that money on an IKEA couch instead? Yeah, how's the view from that couch, you dumbass? 
Esme enjoying the rolling, vertiginous hills of New Zealand.
Esme, "aged 11 weeks in Singapore on the roof top of Marina bay sands!," according to the caption. 
Reminder: Babies don't typically start forming memories until they're at least 9 months old. 
Edwards, who quit her nursing job after she gave birth to Esme, started traveling around the world with her partner and her daughter when Esme was just 10 weeks old. Her story has gone viral, and with good reason: the narrative of couples quitting their jobs to travel to exotic locales around the globe is as much of an Instagram staple as latte art or rainbow hair, even though the reality often pales in comparison to the Valencia-hued fantasy. The fact that Edwards' Instagram features an adorable baby only sweetens the pot.
And yet, even while Edwards' Instagram inspires major Instagram envy, and even while one can't help but stare goggle-eyed at the sweeping vistas and calm cerulean waters in Edwards' photos, one can't help but wonder: Are these globetrotting adventures expanding Esme's worldview? Or are they merely being wasted on a toddler with the attention span of a chihuahua? Should we be concerned if a baby is giving us major Instagram FOMO? Or should we be wondering what the hell a 1-year-old baby is doing on a riverboat in Hoi-An, Vietnam, to begin with?
You know what? It doesn't even matter where Esme is in this photo. We highly doubt you'll ever make it there. 
Esme is famous. Esme is well-traveled. Esme is a baby, and she's living the life you've always dreamed of.
h/t Elite Daily