Comedian Owen Benjamin Says Beyoncé "Did a KKK Dance Routine" During Super Bowl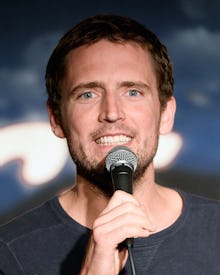 Michael Schwartz/Getty Images
During Beyoncé's powerful Super Bowl halftime performance, she and her backup dancers performed a routine that referenced the Black Panther Party, choreographed to Beyoncé's new black pride anthem "Formation." The performance garnered her praise and adoration from fans, along with some inevitable backlash — and one disgruntled comedian just took to Twitter to compare Beyoncé's Super Bowl performance to the KKK. 
Read more:
In a since-deleted tweet, stand-up comic Owen Benjamin wrote "I really really hope Beyonce fans google 'who were the black panthers.' Never support her again. She basically just did a KKK dance routine."
Beyoncé's Super Bowl performance was clearly political — the black berets worn by her dancers evoked the uniforms of the Black Panther Party. "Formation," and the Super Bowl performance that went with it, is about black identity and black pride, not hate or violence.
Benjamin, apparently, saw things differently. In his tweet he compared Bey's nod to the Black Panther Party and the black pride movement to the Ku Klux Klan. The Southern Poverty Law Center characterizes the KKK as "the most infamous — and oldest — of American hate groups" whose "primary target" is "black Americans." 
After being inundated with replies, Benjamin took down his original tweet, but sent out a series of halfhearted defenses and a sarcastic apology addressed to "black people."
Benjamin also issued an open invitation to come talk about Beyoncé on his podcast ... and we're really, really hoping someone takes him up on that.