What Is Hulu's '11.22.1963' About? A Quick Guide to Stephen King's Novel-Turned-Show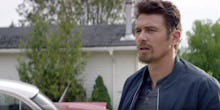 Mic/YouTube
Hulu has continued to expand its original programming to compete with streaming giant and main competitor Netflix and will soon premiere its latest — and one of its biggest — television series, 11.22.1963. The show will examine a similar question that raised the wrath of the internet with baby Hitler: going back in time to save, or kill, someone. This time, however, it's former President John F. Kennedy.
Read more: 
Set to appropriately premiere on President's Day, 11.22.1963 will be a TV adaptation of Stephen King's time-traveling novel of the same name (which has backslashes, instead of periods) regarding Kennedy's assassination at the hands of Lee Harvey Oswald, according to Variety. In it, a present-day high school English teacher, Jake Epping (James Franco), discovers a portal that initially takes him back to 1958 — five years prior to Kennedy's assassination. 
In that timeframe, he will try to create a plan to stop the assassination from happening. Along the way though, Epping's mission will be "threatened by Lee Harvey Oswald, falling in love and the past itself, which doesn't want to be changed," according to a synopsis acquired by the Mary Sue.
Franco has said he's excited by the time-traveling aspect of the miniseries, and hopes it will provide younger generations who might not know much about Kennedy's assassination a chance to learn more about one of America's most controversial historical events. 
"With the time travel element you get to sort of revitalize the whole assassination story," Franco told Rolling Stone. "The possibilities of what happened are reopened ... For my generation that didn't live through the assassination, it's become like an American myth. This is a fresh in."
Similar to other Hulu programs, it will air one episode weekly, in contrast to Netflix's binge-watching option for the majority of its programming, according to Variety. 
Ahead of Monday's premiere, check out the trailer for 11.22.1963  below: