Bernie Sanders' New Hampshire Victory Is Even More Impressive Than You Think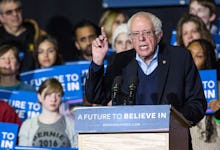 CONCORD, N.H. — When Bernie Sanders began floating the possibility of a run for the Democratic presidential nomination in 2014, few took seriously the prospect that the rumpled socialist would pose a real challenge to presumptive frontrunner Hillary Clinton.
The numbers certainly didn't suggest he would. In a July 2014 WMUR poll of likely Democratic primary voters in New Hampshire, the senator from neighboring Vermont mustered just 5% support, far behind Clinton, who dominated the field of potential candidates with 59% support.
By February 2015, Sanders' support had inched up to 13% in an NBC News/Marist poll of New Hampshirites, but Sanders' positive movement was overshadowed by Clinton's breathtaking command of the field. The former secretary of state demolished the competition with 69% of the vote.
On Tuesday night — almost exactly one year later — Sanders defeated Clinton in a Granite State landslide, leading her by a more than 20-point margin with half the vote counted.
That remarkable trajectory is worth keeping in mind as the commentariat sizes up whether Sanders "met expectations" in New Hampshire. With some pre-primary polls placing the senator's support north of 60%, the Clinton campaign moved aggressively to chip away at Sanders' margin, realizing that he was likely to win anyway but hoping that a closer-than-expected race could be spun as a moral victory for Clinton.
Sanders may not have won by the 30-point margin his best polls predicted, but it's Clinton who over the course of the past year has plunged nearly 30 percentage points in New Hampshire — in part because of voter concerns about her ties to Wall Street banks and her use of a private email server as secretary of state, but no less crucially because she drew an opponent who effectively harnessed the energy of young voters and grassroots progressives to power an inequality-focused campaign.
It was inevitable, of course, that once a grueling national campaign was actually underway, Clinton's poll numbers would come down from their stratospheric levels. What remained unclear was who would emerge as her top challenger. And with a message married to this moment of mounting public unease with the political and economic establishment, Sanders has succeeded where more conventional political figures like Martin O'Malley, Jim Webb and Lincoln Chafee came up well short. 
The race now moves to territory that early polls suggest will be less fertile for Sanders. With Nevada's Democratic caucuses set for Feb. 20 and South Carolina Democrats heading to the polls on Feb. 27, political observers see Clinton as a heavy favorite heading into the next contests. To Sanders, it all sounds awfully familiar.