Here's How Bernie Sanders Won New Hampshire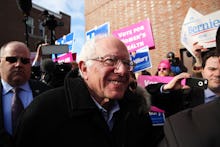 The Associated Press called the New Hampshire Democratic primary for Sen. Bernie Sanders shortly after polls closed Tuesday at 8 p.m. Eastern. For the next few days, pundits are going to throw around all kinds of theories on his victory from momentum to organizing prowess to the proximity of Sanders' home state of Vermont. But the exit polls — however imperfect they are — provide some insight into just how Sanders actually pulled it off in the eyes of the voters.
The preliminary results reveal that Democratic voters in New Hampshire were strongly in favor of a deeply liberal candidate whom they trust and perceive as sharing their values. 
"Honesty and trustworthiness" ranked as the most important quality for a candidate to possess, and was chosen by more than 30% of voters in ABC News' preliminary analysis. The next most important attributes were "someone who cares about people like me" and experience, which were tied about about 25% each. The criterion of "electability" was chosen only by 10% of voters as the most critical characteristic of a candidate. On the most-prized attribute of honesty and trustworthiness, New Hampshire voters found Sanders to be the favored candidate. 
Close to 70% of voters in the Democratic primary said they see themselves as "liberal," which includes 25% who identify as "very liberal." That's a shift to the left compared to 2008, when 56% percent of Democratic primary voters described themselves as liberal and a fifth went with very liberal. ABC says that if these preliminary exit poll results don't change too much, they'd constitute higher levels of liberalism than the Democratic primary has seen since 1980, the year Ronald Reagan was elected to office.
Early poll results point to a Democratic electorate in New Hampshire that's eager for a president who's more progressive than President Barack Obama. About 40% said they want the future president to pursue policies "more liberal" than Obama's, and a remarkable two-thirds said they support a single-payer health care system. On both of these fronts, Sanders edges out Hillary Clinton, with a vastly more progressive policy platform that includes a proposal for single-payer health care that has drawn sustained fire from his rival.  
Not too long ago, Sanders was a longshot candidate for virtually every nominating contest in the primary season. But today it's grown crystal clear that his platform is quite a match for the current zeitgeist of discontent with establishment politics that pervades much of the left. About 90% of Democratic primary voters in New Hampshire said that the U.S. economic system generally favors the wealthy. For most of them, they felt Sanders was the right person to address that problem.  
h/t ABC News