'Deadpool' Movie 2016: Full Preview, Plot Details and What We Know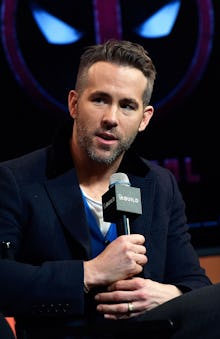 Slaven Vlasic/Getty Images
Ryan Reynolds will play Wade Wilson, the super-powered "merc with a mouth" named Deadpool, in the 2016 film Deadpool, which hits theaters Thursday. Wilson, a former special forces operative, gained special abilities after he was subjected to experimenting. Here's a full preview of Deadpool and details about the plot.
Apparently there is a scene in the film where Reynolds will have to fight antagonist Ajax in the nude. "There was a lot of me there," Reynolds, who attended a BuzzFeed Brews event in San Francisco on Saturday, told the crowd. "There's nothing else you can do except to just sorta grin, bear it and go, 'All right, guys, we're all going to get to really know each other today. I may be sitting on this man's face at some point, he may be sitting on mine.' It was ugly but necessary."
Read more:
This isn't Reynolds' first time as the wisecracking mercenary. The actor appeared as Deadpool in the 2009 superhero action film X-Men Origins: Wolverine. 
The film is "the origin story of former special forces operative-turned-mercenary Wade Wilson," who meets Vanessa Carlysle, played by Morena Baccarin. Wilson finds out that he has late-stage cancer, and he is recruited by Ajax (Ed Skrein), for experimentation through the Weapon X workshop. Ajax transforms Wilson into the undying, mutant mercenary known as Deadpool.
Early reviews of the film were positive. Metacritic, a film review aggregation website, found "generally favorable reviews" for Deadpool. 
"Deadpool avoids enough pitfalls to both embrace and flambé the superhero genre while also finding time for romance, doling out equal handfuls of bullets, barbs and warm fuzzies," Brian Truitt wrote in USA Today. 
Fox is expecting the film to do well at the box office, so well, in fact, that a sequel is already in the works. According to the Hollywood Reporter, fans can expect to see a Deadpool sequel with writers Paul Wernick and Rhett Reese returning to work on the film. The director, Tim Miller, may return as well.