Bernie Sanders Just Became the First Jewish Candidate to Win a Primary in American History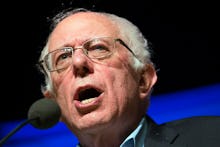 On Tuesday night, Sen. Bernie Sanders achieved something that just one year ago seemed utterly impossible — convincing a majority of voters in one of the most crucial contests of the 2016 presidential nomination race that his renegade left-wing politics were a good fit for the White House. But Tuesday evening he also achieved another notable feat, and it's one entirely without precedent: He became the first Jewish candidate in American history to win a presidential nominating contest. 
Other Jewish candidates have sought a major party nomination in the past. In 1996, Sen. Arlen Specter of Pennsylvania took a shot at the Republican nomination, and in 2004 Sen. Joe Lieberman from Connecticut attempted the Democratic one. Despite at one point faring well in national polls, Lieberman failed to win any presidential nominating contests. He came in fifth in New Hampshire and secured no delegates.
Sanders' candidacy is not only a first for Jewish Americans, but is also blazing a new trail for non-Christian Americans more generally. Last week during the Iowa caucuses he won more delegates than any non-Christian candidate in American history. Tonight he set that bar higher.
Sanders is generally secular, but he's described himself as proud of his Jewish heritage and someone guided by spiritual feelings.
"Everybody practices religion in a different way ... I would not be running for president of the United States if I did not have very strong religious and spiritual feelings," Sanders said during a town hall earlier in February.
Unlike then-Sen. Barack Obama's rise in 2008, the unprecedented nature of Sanders' candidacy is not being emphasized in popular narratives surrounding his ascent. As CNN's Greg Krieg reported in a story consulting Jewish political activists and scholars, perhaps Sanders' minority faith has been "overlooked because attitudes toward Jews in America have evolved to the point where there's no stigma attached to his background." 
That may be just as impressive a sign of progress as Sanders' victory.