What Bernie Sanders' New Hampshire Win Really Means, According to His Biggest Supporters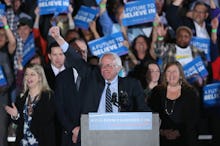 CONCORD, N.H. — An avid follower of American politics, Ashley Bayse knew who Bernie Sanders was long before he was an insurgent presidential candidate confronting the Clinton financial juggernaut.
Enthralled by his call to break up the big banks and tackle wealth inequality, the Quincy, Massachusetts, community volunteer told Mic she hoped "for years" that the populist senator from Vermont would mount a presidential bid. Sanders fulfilled that wish in April 2015, announcing outside the United States Capitol that he would seek the Democratic presidential nomination.
Few gave Sanders much of a chance when he announced his seemingly quixotic quest that day. But as Sanders prepared to accept victory in the New Hampshire Democratic primary Tuesday night at Concord High School, Bayse said she never doubted this moment would arrive.
"He can't be bought by corporations or Goldman Sachs or anybody," Bayse, who's canvassed for Sanders in both Massachusetts and New Hampshire, told Mic. And at a moment of rising discontent with establishment institutions, that's a message Bayse is confident will resound well beyond the Granite State.
"We're ready. People are serious about wanting change and are going out and making that happen."
Carl Soderstrom said he could also sense Sanders' revolution brewing long before it propelled him to a thumping victory over former Secretary of State Hillary Clinton.
The chairman of the Concord City Democrats, Soderstrom is officially neutral in that capacity, but told Mic that he'd voted for Sanders in the primary. Soderstrom recalled that when Sanders' campaign set up a booth at the city's Market Days festival last summer, its visitors "far outnumbered" those for any other candidate's.
Soderstrom was already leaning toward Sanders by then, and he said his support only "grew stronger" after watching the senator go toe-to-toe with Clinton in the Democratic primary debates.
"He stands by his principles and doesn't blow with the winds of political change," Soderstrom told Mic, in a not-so-thinly veiled contrast of Sanders' record with what many of the senator's supporters see as Clinton's political opportunism.
Seth Kottman, a 21-year-old employee of a motor freight business in Concord, said that Clinton's record of U-turns on high-profile issues like free trade agreements and marriage equality raised significant doubts about her trustworthiness.
"Hillary Clinton doesn't really mean what she says," Kottman told Mic. Largely apathetic about politics until a few friends told him about Sanders in August, Kottman predicted that Sanders' victory on Tuesday heralded a political earthquake. 
"Power is coming back to the people," he said.
Dwight Ritcher and Nicole Nelson, a musical duo from Sanders' hometown of Burlington, Vermont, voiced similar sentiments. 
Asked what message Sanders' victory sent the rest of the nation, Nelson told Mic, "We're ready. People are serious about wanting change and are going out and making that happen."
In an assessment that meshed with those of many other Sanders supporters, Ritcher suggested that Sanders' personal image was as big a draw as his policy positions on issues like single-payer health care and income inequality.
People "really feel his sincerity," Ritcher said, calling Sanders "a man of the people."
His loyalty to the senator stems from Sanders' work as mayor of Burlington. Local activists have hailed his tenure leading the city from 1981 to 1989 as a period of environmental stewardship, urban renewal and sustainable growth.
"He's really tried to keep Vermont, Vermont," Ritcher told Mic.
After Sanders' landslide victory here, it's no longer such an outlandish question whether Sanders' purview will soon extend well beyond the Green Mountain State. And even for die-hard Sanders fans like Bayse, the community volunteer, it's all a bit surreal.
"Who would ever have thought," Bayse asked, "that a democratic socialist would have a good chance of becoming the next president of the United States?"