Inside Trump's New Hampshire Victory Party With His Enthusiastic Young Supporters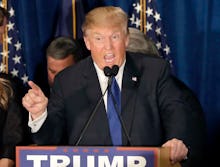 MANCHESTER, N.H. — The feeling in the room was electric all night as hundreds of supporters roared in approval as Donald Trump won the New Hampshire Republican primary in a landslide.
Onlookers chanted "USA, USA" and waved signs pledging to "Make America Great Again" as election returns came in showing the Republican frontrunner winning New Hampshire handily, with more than 30% of the vote. Hundreds more waited outside in frigid temperatures, trying to make their way into the packed Executive Court banquet hall where Trump addressed his supporters.
Trump, who seemed gracious as he thanked his family, other Republican candidates and New Hampshire voters for their support, hit on many of his typical themes, including immigration, jobs and foreign policy. But it was his anti-corporate, anti-super PAC message about his self-financed campaign that seemed to resonate most with voters and garner the loudest applause of the evening.
"Self-funding my campaign really caught on," Trump told supporters. "I see all of this money being poured into commercials. This is on both sides. These are special interests. We're not going to let it happen. We have to do something about it. We have to stop it."
That message struck a chord with young voters in particular, some of whom told Mic they are supporting Trump over Sen. Bernie Sanders, who has garnered the majority of the youth vote on the Democratic side, because they believe Trump is independent and not controlled by special interests.
"I've been fed up with politics for my all of my adult life," Jack Martin, 33, told Mic. "Trump came from outside the system, and he's calling people out from all across the spectrum."
"Trump speaks honestly," Dylan Dobson, 23, told Mic. "He's not led by people who pay him the most money."
Other millennial voters said they feel Trump's platform is more pragmatic and achievable than Sanders' agenda. "I don't think Bernie can do everything he thinks he can do," Christina Lozan, 27, told Mic. "What Trump has planned for us is more achievable."
Although the majority of Trump's supporters to date have not been young people, Lozan said she believes his New Hampshire victory could change the equation.
"Now that he's won New Hampshire, I think young people will feel more comfortable voting for him," Lozan told Mic. "With this result, people in other states will feel comfortable and vote for him."
South Carolina Republicans go to the polls on Feb. 20, in just under two weeks, to put that notion to the test.