How Many Grammys Has Taylor Swift Won? Artist Up for 7 Awards at the 2016 Grammys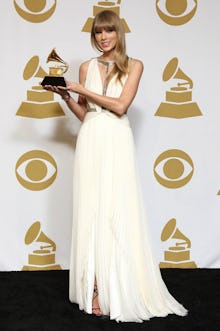 Matt Sayles/AP
Taylor Swift's ubiquity will be on full display once more on at the 58th Grammy Awards. On Monday, Swift will be vying for seven more Grammys, including album, song and record of the year. Although Swift is only 26, she has a long history with the National Academy of Recording Arts and Sciences, having been nominated 29 times, winning seven of them.
Read more:
Swift's banner year was in 2009 at the 52nd Grammy Awards, when her album, Fearless, won four Grammys, including best country album; best female country vocal performance for "White Horse"; best country song for "White Horse"; and album of the year.
Swift's win for album of the year — one of the "big four" general categories — was significant because she became the youngest winner at the age of 20. The previous record-holder was Alanis Morissette with Jagged Little Pill, which won album of the year in 1996 at the 38th Grammy Awards when she was 21 years old.
Swift's next two Grammys came in 2012 at the 54th Grammy Awards, when her song "Mean" won for best country song and best country solo performance. 
The last win for Swift came a year later, in 2013, at the 55th Grammy Awards, when she shared the Grammy for best song written for visual media with the band the Civil Wars for their song "Safe and Sound" — from the soundtrack to The Hunger Games.