The UK's Striking Junior Doctors Hit Social Media to Give a Face to the Cause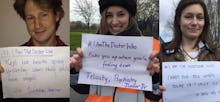 Junior doctors are back on strike to protest a proposed contract with the British government, and now they have the ear of the social media world. 
Though formal contract negotiations started in 2013, talks disintegrated, and in November, junior doctors declared a strike. Negotiations restarted last month, but again broke down after Health Secretary Jeremy Hunt proposed to cut weekend pay. 
"Junior doctors should not have been pushed to this. But 'doing no harm' means standing up for our patients," according to message on a junior doctor advocacy Facebook page in January. "We need to be able to care for our patients to the best of our abilities."
Read More: This Man's Heartfelt Tribute to His Trauma Nurse Wife Is Going Viral on Facebook 
Now, the doctors have taken to Twitter with the #IAmTheDoctorWho hashtag, aiming to educate the public about why their work matters and give a face to the struggle.
The doctors speaking out range from psychiatrists ("#IAmTheDoctorWho picks you up when you're feeling down"); to an obstetrician ("#IAmTheDoctorWho helps you and your baby through a difficult labour at 5 a.m. on a Saturday"); to a cardiology specialist (#IAmTheDoctorWho kept two hearts going yesterday when they would have stopped"). 
And it goes on:
For its part, Britain's Conservative government says the current contract is outdated and it is hoping the pay cut will allow more junior doctors — who are considered government employees — to work on weekends to address the recent concern over a rising mortality in patients between Friday and Sunday. The proposed new contract also included a basic pay raise to somewhat offset the weekend cuts, but this was rejected by the strikers.  
In the United Kingdom, the term "junior doctor" covers a broad spectrum of physicians ranging from those who are fresh out of medical school to others with years of hands-on experience. According to the BBC, starting salaries for a junior doctor range from about 23,000 pounds (roughly $33,400) to 70,000 pounds (about $100,000).
Taken as a whole, Britain's corps of junior doctors play a critical role across all areas of the U.K. health care system. If the strike persists, the ramifications around the country could be dire.