Who Is Christopher Darden? What to Know About Prosecutor From 'The People v. OJ Simpson'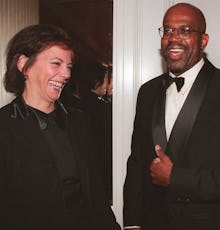 Damian Dovarganes /AP
In the mid-nineties, all eyes were on the historic O.J. Simpson trial, in which the professional athlete was accused of murdering his ex-wife Nicole Brown Simpson and her friend Ron Goldman, and the event is widely remembered as the trial of the century. One figure made famous by the landmark case was former Los Angeles deputy district attorney Christopher Darden, the prosecuting attorney who worked alongside lead prosecutor Marcia Clark. Now, FX Networks' original series The People v. O.J. Simpson: American Crime Story has thrust the unforgettable trial back into the public consciousness, and as we relive the entangled details of the case, there's a renewed interest in the characters who played a critical role in 1995's controversial verdict.
Read more:
The O.J. Simpson trial ignited a widespread discussion on race in America and on the criminal justice system large. Therefore, according to the University of Missouri–Kansas City Law Department, the fact that Darden is African-American matters. 
"The fact that Darden was an African-American was significant because the Simpson jury was comprised mostly of African-Americans, Cochran had joined the defense team, and the victims were white," reads the University's write-up of Darden's role in the case. "In bringing Darden on, the prosecution hoped to dispel the view that this matter was a racist 'white against black' prosecution."
According to that write-up, Darden was "seemingly overwhelmed" by Simpson's defense attorneys and the case they argued, and delivered a less-than-convincing showing in court. "Despite the fact that Darden's abilities during the trial increased, he received criticism during the trial from legal observers," according the the UMKC's law department. "His worst blunder may have been his request that Simpson try on the 'bloody gloves,' which seemed not to fit."
Darden began his tenure at the Los Angeles District Attorney's office in 1980, and after the highly-visible trial continued his career in law. According to a 2015 interview during an episode of Oprah: Where Are They Now? , Darden still works as a criminal law attorney and writes "a little bit here and there." He's now married and raising three children. 
"I was devastated and decimated by the trial," Darden said, speaking during the episode. "Now, when I think about it I don't think I'm so much as bitter, I'm angry. I mean, I couldn't be angry back then. I couldn't be pissed because, you know I'm a prosecutor. Now I'm just Chirs Darden. Now I can be pissed off."
In FX's series Sterling K. Brown plays Darden, alongside Sarah Paulson, who plays Clark. The series airs Tuesdays at 10 p.m. Eastern on FXNOW (subscription).