Gwen Stefani 2016 Album: 'This Is What the Truth Feels Like' Track List and Release Date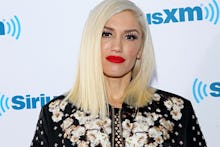 Steve Mack/Getty Images
It looks like everyone is jumping back into the music industry in 2016, with surprise album releases, music video debuts and mix tapes being announced by just about every popular musician. Even Gwen Stefani is spilling more information about her first solo album in a decade, This Is What the Truth Feels Like, set for release later this year, according to Entertainment.ie. 
The singer-songwriter took to Twitter Tuesday night to share an update about her highly anticipated next album, which includes her 2015 post-divorce smash, "Used to Love You." Stefani shared an image of what appears to be the official track list for the next album, along with a series of red-colored hearts. This Is What the Truth Feels Like, which will mark Stefani's third solo album, does not have an official release date as of yet, though it looks like something is brewing in Stefani's world — fans can only hope she doesn't start ghosting like Frank Ocean. 
Read more: 
Below is the 12-song track list for This Is What the Truth Feels Like, according to Stefani:
1. "Misery"
2. "You're My Favorite**"
3. "Where Would I Be??"
4. "Make Me Like U"
5. "Truth"
6. "Used to Love You"
7. "Send Me a Picture"
8. "Red Flag"
9. "Asking 4 It"
10. "Naughty"
11. "Me Without You"
12. "Rare"
Though Stefani hasn't released a solo album since her 2006 The Sweet Escape, the multitalented artist has been keeping busy with her children, as a host on the hit TV show The Voice and even managing to release two tracks in 2014 titled "Baby Don't Lie" and "Spark the Fire." Neither of those releases appear to be on the forthcoming album, however. NME reported "Make Me Like U" might be the singer's next single off This Is What the Truth Feels Like. 
"We were losing our minds," Stefani told Beats 1 radio host Zane Lowe about the possible next smash hit, according to Idolator. "It was called 'Make Me Like You' and we couldn't believe it. Like how did we write this song? It's so good!"