The Planned Parenthood Clinic That Was Attacked in November Will Now Reopen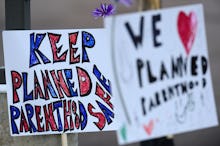 On Nov. 27, a gunman later identified as 57-year-old Robert Lewis Dear entered a Colorado Springs, Colorado, Planned Parenthood and killed three people and hospitalized nine. His goal, he explicitly told a Colorado court, was to act as a "warrior for babies." Now, while Dear awaits trial, the clinic at which this devastating event took place will reopen Monday, RH Reality Check reported Tuesday.
Only about a third of the building will reopen due to ongoing structural repairs from the attack, and the services offered upon opening will be limited, according to the Denver Post. Despite also instating more stringent security measures, not all employees will return immediately due to ongoing mourning, the Denver Post reported.
A whopping 87% of Colorado counties do not have an abortion provider, according to NARAL Pro-Choice Colorado, and the Colorado Springs center served many of the 106,000 women, men and teens that Planned Parenthood of the Rocky Mountains serves every year, according to its website. 
"We are in awe of our healing and resilient colleagues in Colorado Springs," Vicki Cowart, president and CEO of Planned Parenthood of the Rocky Mountains, said in a statement on the center's website. "They are eager to get back to the mission they so deeply care about and the people they so compassionately care for. We welcome our team and our community back into the space with open arms and full hearts."
Though the violence this clinic faced was certainly devastating, the unfortunate truth is that it's also hardly exceptional. There have been 11 murders and 26 attempted murders due to anti-abortion violence since 1977, according to the National Abortion Federation. A 2015 report revealed that threats of violence against abortion providers have significantly increased in recent years and have even doubled since 2010.
Yet while many of these attacks likely serve to counter these clinics' abortion services, it's crucial to remember that Planned Parenthood offers myriad other important health services to those unable to access them elsewhere. In fact, 97% of Planned Parenthood's services are devoted to providing contraception, medical care and sex education to a vast majority of patients who reportedly have incomes at or below 150% of the federal poverty level.
The Colorado Springs center's resilience and determination to serve its community by providing reproductive services must be acknowledged, and its right to do so should continuously be defended. 
h/t RH Reality Check