What Song Will Rihanna Perform at the 2016 Grammys?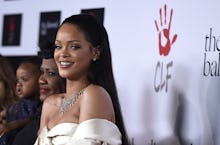 Jordan Strauss/AP
After dropping her rebellious eighth EP Anti on Jan. 27, Rihanna announced on Twitter Friday that she'll perform at the Grammy Awards Monday night. With a plethora of hard jams and ballads to choose from off her latest album and extensive discography, what will the notorious Barbados-born R&B queen perform?  
There's been no confirmation or even a subtle hint as to what she'll sing. But if Rihanna's past Grammys performances are any indication, she could perform one or two of the biggest tracks off her latest record. In 2008 she performed radio hits "Umbrella" and "Please Don't Stop the Music." In 2012 she performed "We Found Love," and last year she performed her hit with Kanye West and Paul McCartney, "FourFiveSeconds." 
Read more:
But being that the versatile, grown style of Anti was the last thing many expected from badgalriri, it's difficult to say what she'll whip out at the Grammys. The most predictable song Rihanna could perform would be Anti's first single, "Work," a dance club anthem featuring rapper Drake. But he tweeted Sunday that he won't be performing at the Grammys after CBS advertised he would during the Super Bowl.
Here's the entire Anti album (deluxe version) full of Grammys performance potential. Start placing bets: