Ian McKellen Reading This Coming Out Letter Is Going to Give You All the Feels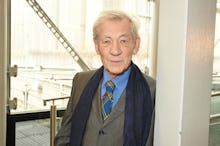 If you ever wanted to see Gandalf choke up or Magneto get misty, here's your chance. 
At a London event for Letters Live, an organization that celebrates "the enduring power of literary correspondence," actor Sir Ian McKellen read a coming out letter from Armistead Maupin's More Tales of the City, a book set in 1970s San Francisco. In the book, one of the characters Michael Tolliver writes a letter to his mother where he comes out to her as a gay man and explains his newfound personal freedom. 
Tolliver writes home when he hears that his mother has joined the "Save Our Children" campaign, a conservative organization in the 1970s that was spearheaded by anti-gay activist Anita Bryant. 
The letter opens with a greeting from Tolliver to his mother, and an apology for the long period of time between correspondences. He then says he is a homosexual, and unlike the name of Bryant's organization implies, he is not in need of saving. 
"I never needed saving from anything," McKellen reads. "Except the cruel and ignorant piety of people like Anita Bryant. I'm sorry, Mama, not for what I am, but for how you must feel at this moment. I know what that feeling is, for I felt it for most of my life: revulsion, shame, disbelief — rejection through fear of something I knew, even as a child, was as basic to my nature as the color of my eyes."
The letter then goes on to explain how San Francisco's culture of acceptance has helped him realize he is not sick or evil, just gay — and that's OK. McKellen continues, 
"San Francisco is full of people both straight and gay that don't consider sexuality in measuring the worth of a human being," he reads. "They aren't' radicals or weirdos, Mama. They are shop clerks and bankers and little old ladies and people who nod and smile to you when you meet them on the bus. Their attitude is neither patronizing nor pitying. And their message is so simple: Yes, you are a person. Yes, I like you. Yes, it's all right for you to like me, too."
"Yes, you are a person. Yes, I like you. Yes, it's all right for you to like me, too."
McKellen gets a tickle in his throat when he reads the line, "If you and Papa are responsible for the way I am, then I thank you with all my heart, for it's the light and joy of my life." 
McKellen is an out gay man himself and has spoken to numerous outlets about the importance of coming out for gay men.
"I've never met a gay person who regrets coming out," he told Anderson Cooper on Anderson Live. "You're more at ease with your loved ones, your family and extended family, your friends and your employers, employees. Everybody's happy because they know where they are." 
Watch the full video of McKellen reading the letter below.