Who Is Kendyl Flay? New Team Member Debuts on 'Dance Moms' Season 6 Episode 6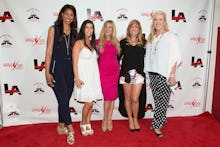 Gabriel Olsen/Getty Images
Abby Lee Miller and her aspiring young dancers took to her Abby Lee Dance Company studios in Tuesday night's episode of Dance Moms. The episode marked Miller's return to her Los Angeles studio after a previous resignation over email, according to the International Business Times. Along with Miller comes a new dance member for the mini team (which Miller is trying to expand to see if she should keep them) – Kendyl Flay and her mother, Lynn Flay. 
The Flays quickly learn that the have to adjust to the tough ins and outs of Miller's dance studio. Lynn Flay and Miller get off to a rocky start by showing up late to practice. After the drama, Lynn Flay decides that she doesn't want to "compromise" herself for Kendyl Flay's dance team position. "This is nothing honey," fellow dance mom Melissa Gisoni told her. "Get used to it." Lynn Flay keeps insisting on doing things her way, while Gisoni keeps warning her that doing so will get her kicked off the team. 
Read more:
Lynn Flay's stubbornness also puts her on the other moms' bad sides. "I don't know who this mom thinks she is," Gisoni told the camera, but speaking for the other veteran dance moms. "We have to fight for everything that we get here and that's why we're such a tight team. If Lynn doesn't stand up for her kid, she won't last long." 
Competition day rolls around and Lynn Flay insults Gisoni's daughter Mackenzie Ziegler's past solo routines. The other moms back Gisoni up saying that all they've ever done is support the Flays.
Lynn Flay later asks the other moms for help to ensure Kendyl gets on the team. As expected, this request is met with poor reception. 
The episode ends with Miller not revealing the fate of the mini team with the dance company, despite them winning first place with a caveman-esque routine, according to Buddy TV.