Is Megan Fox Replacing Zooey Deschanel on 'New Girl'? Here's What We Know About Season 5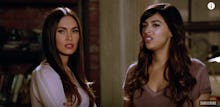 YouTube
Actress Megan Fox made her New Girl debut on Tuesday's episode as Reagan, an obviously good-looking pharmaceutical rep who's subletting Zooey Deschanel's character Jess' room while she's on "jury duty," aka while Deschanel is on maternity leave. Fox is signed for a multi-episode run and there are no plans for her to replace Jess on the show — but Nick's romantic interest in her on Tuesday's episode could mean she'll stay on after Deschanel gets back. 
"With her razor-sharp bite and moxie, Reagan is not a replacement for the cute and bubbly Jess," Entertainment Weekly's C. Molly Smith wrote. "But she brings a new, edgy energy to the show, and she's really funny."
Read more:
Reagan first appears in the episode when Nick and Winston meet her at the hospital after Nick "smushed every bone in his back" trying to prove he's still young by lifting a keg. When Reagan tells the boys she's looking for a place to stay short-term, Nick, who's palpably attracted to her, offers up Jess' room in the loft. 
Reagan doesn't exactly jump on the offer, so most of the episode involves Nick trying to convince her. Along the way, they find out Reagan and Cece hooked up once. Schmidt, being usual Schmidt, freaks out about it (he's been acting super jealous since he and Cece got engaged out of fear someone will steal her from him).
Fox finally gives in to Nick at the end of the episode, initiating her temporary time as replacement Jess. 
Many New Girl fans are pleasantly surprised by Fox's character:
Some, naturally, are not having it and want Jess back stat: