Are the Grammy Awards Live? Here Are the Challenges Grammys Producers Face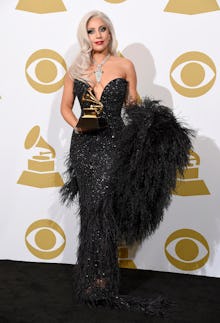 Chris Pizzello/AP
The 58th annual Grammy Awards show is upon us, and the event boasts a stacked bill of big-name performers. Yet the stakes are high for those performers, who will have the added pressure of executing a flawless delivery on live television. CBS will broadcast the event from the Staples Center in Los Angeles on Monday at 8 p.m. Eastern, and famed recording artist and actor LL Cool J will serve as the evening's host. Viewers can stream the event live through CBS All Access.
Read more:
A live televised event poses challenges, one of which is the quality of sound and the risk that a performer will stumble before the event's massive amount of viewers. Any deviation from perfection will unfold in real-time, which makes it a gamble for producers and performers alike. As such, some have speculated performers lip-sync their deliveries on stage, a theory that the event's organizers have been quick to debunk in recent years.
"While we don't allow lip-sync on the show, some performances are so demanding in terms of sound design that there has to be some of what we call track augmentation, which might involve Pro Tools or some other kind of playback," audio coordinator Michael Abbott told TV Technology in 2012.
"We do allow the artist to have their vision of what they should be looking and sounding like produced accurately, just as they do in concert. That can be a real challenge on live TV, especially in the context of Grammy events, where you might have live orchestra, huge choirs and lots of choreography," Abbott said. 
No small number of talented members of the music industry are up for hardware at this year's event. On the long list of 2016 nominees is Taylor Swift, Ed Sheeran, D'Angelo, Courtney Barnett, the Weeknd, Florence & the Machine, Kendrick Lamar, Justin Bieber, Tame Impala, Wilco, Leon Bridges and Nicki Minaj, just to name a few of many. For more on that, here's the full list of this year's nominees. 
Some of the artists up for prestigious awards will also be performing on stage Monday. Justin Bieber will take the stage, as will Kendrick Lamar, who is up for 11 awards. Notably, Adele will also be performing at the awards show (stock up on tissue) as will Little Big Town, the Weeknd, Rihanna, Lady Gaga, Pitbull, Travis Barker and Tori Kelly. Also on deck is a performance from the cast of Broadway's hit-musical Hamilton.  
Tune in Monday to catch the action live. And just for fun and because it's epic, here's Drake drinking out of a Grammy he's won in years past: