NASA Just Released 11 Stunning Posters Revealing the Beautiful Future of Space Tourism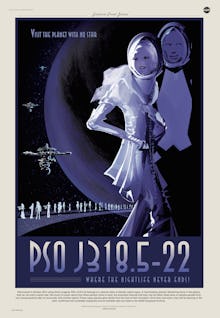 NASA/JPL
Forget that Eiffel Tower poster hanging in your room.
NASA's Jet Propulsion Laboratory's new poster series "Visions of the Future" takes wanderlust to new heights with stunning, futuristic tourist ads for (literally) out of this world travel destinations including Mars, Venus, Jupiter, Europa and several other planets it says "can become a reality" for travelers, with further innovation and exploration. 
Earth is included too, advertised as "Your oasis in space, where the air is free and breathing is easy." All 14 posters can be downloaded for free on the JPL website.