"Thinking Out Loud": Breaking Down the Lyrics to Ed Sheeran's Love Song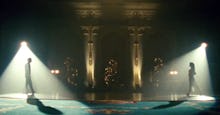 Mic/YouTube
In October, Billboard reported Ed Sheeran's "Thinking Out Loud," the third single from his 2014 sophomore album, x (or Multiply), became the first song to be streamed 500 million times on Spotify. The hit single likely contributed to his overall streaming numbers, which resulted in Sheeran becoming Spotify's most streamed artist of all time, as well as being the fourth most streamed artist — male and overall — of 2015 in the U.S. market. 
The laid-back tempo, easy-to-listen chill vibe, and sentiment clearly resonated with listeners, and the song has even become a popular choice for a couple's first dance at weddings. Perhaps a slightly odd choice, considering the lyrics imply the possibility of a finite relationship, as opposed to one that is emphatically everlasting.
Read more
To be clear, "Thinking Out Loud" is very much a love song; the Telegraph notes the lyrics were inspired by his-then girlfriend, Athina Andrelos. Furthermore, there's really no other way to interpret lines like "I fall in love with you every single day"; "Take me into your loving arms/ Kiss me under the light of a thousand stars" and its chorus:
So honey, now, take me into your loving arms 
However, the song tempers sappy within its structure, through a tonal change in the pre-chorus verse toward the end:
People fall in love in mysterious ways 
The notion of needing to understand an ostensibly repeated mistake interrupts the romantic tone predominant in the first half of the song. This tonal shift then seeps into the subsequent reiterations of the chorus closing out the song; the "now" becomes much more temporal, and the "maybe we found love where we are..." feels even less like a declaration, and more like a resignation along the lines of making the best of wherever the relationship is at currently.
Additionally, with the tonal change in mind, one could play the back again, pressing a double meaning behind the opening lines — one imbued with a sense of longing and nostalgia:
When your legs don't work like they used to before 
"Thinking Out Loud" is nominated for record of the year, song of the year and best pop solo performance at the 58th Grammy Awards. Listen to the song below.