In Just 5 Months, the Eighth Story in the 'Harry Potter' Series Is Coming to Bookstores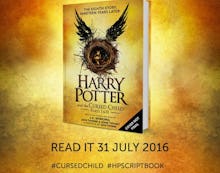 In what can only be described as a belated holiday miracle — like an anonymous box with an invisibility cloak in it — British publisher Little Brown announced on Twitter that there would be an eighth installment of the Harry Potter series, to be known as Harry Potter and the Cursed Child, written by J.K. Rowling herself.
The new book, containing the script for Rowling's play of the same name, is planned for release on July 31, 2016 — Harry Potter's 36th birthday. It takes place nineteen years after the end of Harry Potter and the Deathly Hallows.
According to Little Brown, the move to publish the script came as a result of overwhelming audience demand. 
"We are so thrilled to be publishing the script of Harry Potter and the Cursed Child David Shelley, CEO of Little, Brown Book Group said in a press release reported by the Bookseller. "J.K. Rowling and her team have received a huge number of appeals from fans who can't be in London to see the play and who would like to read the play in book format – and so we are absolutely delighted to be able to make it available for them."
Read More: JK Rowling Just Revealed One of the Last Great Harry Potter Mysteries
While Little Brown played no role in publishing the original Harry Potter books, the company has partnered with Rowling on her post-Potter novels including The Casual Vacancy, The Cuckoo's Calling and others. 
Online, the reaction to the was little short of volcanic.
Just take our galleons already — although not for Hogwarts because at JK told us herself, that's free. 
Mic Check sorted the presidential candidate into their destined Hogwarts houses. Watch below: