Rubio's Disastrous Debate Performance Cost Him New Hampshire — And Maybe the Nomination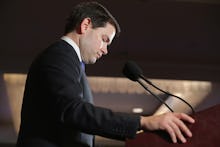 MANCHESTER, N.H. — Donald Trump won the New Hampshire primary in a landslide, but there was a subplot Tuesday evening that could have even greater consequence on the Republican campaign in the coming days: the collapse of Florida Sen. Marco Rubio.
Rubio came into New Hampshire riding high after his impressive showing in the Iowa caucuses. But the 44-year-old finished in fifth place Tuesday, behind former Florida Gov. Jeb Bush and Texas Sen. Ted Cruz, marking a major shift in momentum that poses a severe setback to his chances of becoming the Republican nominee.
"Rubio's message definitely resonated, but he is a robot, programmed by the establishment to be the next young guy."
In the days leading up to the New Hampshire primary, Rubio pitched himself to voters as a next generation conservative, one who can unify the Republican Party in the general election and also uniquely appeal to young voters. But his widely panned performance in Saturday's debate proved crippling to his New Hampshire efforts.
Several young voters who spoke with Mic inside the banquet hall where Trump delivered his victory speech Tuesday evening said Rubio's disastrous performance in the debate, in which he seemingly malfunctioned and repeated the same line multiple times, was the moment they decided to switch their allegiance to Trump.
"Rubio's message definitely resonated, but he is a robot, programmed by the establishment to be the next young guy," Joe Smith, 28, told Mic. "He had been doing well, but Christie picked him apart little by little in that debate. You could see the repeats and scripted answers. That was the end for me."
"Rubio comes off as a nervous wreck," Dylan Dobson, 23, told Mic. "His debate performance was simply not impressive."
In a moment of humility, Rubio himself acknowledged his struggles in remarks on Tuesday, apologizing to his supporters for his disappointing debate performance.
The problem for Rubio, however, is he did malfunction again, when he repeated the same line just two days after the debate, at his final rally ahead of the New Hampshire primary. That misstep only seemed to fuel the growing perception that Rubio is overly rehearsed and lacks the experience needed to be president.
Outside Rubio's final campaign stops ahead of Tuesday's primary, demonstrators dressed as robots mocked Rubio, holding signs that read "Robot Rubio" and repeating his now infamous line, "Barack Obama knows exactly what he's doing," in monosyllabic tones.
Now, Rubio's path to victory gets much more complicated. Rubio had been banking on a "3-2-1 strategy" — finishing third in Iowa, second in New Hampshire and first in South Carolina — to win the nomination. That strategy is now in tatters.
With Trump leading in the latest South Carolina polls, and the wind fully out of his sails, Rubio is in trouble as he heads down South.