What's Adele's Net Worth? Here's How She Stacks Up Against Taylor Swift and Beyonce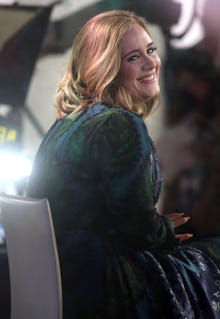 KGC-146/STAR MAX/IPx/AP
Adele's one of the biggest names in the music industry among the likes of megastars such as Taylor Swift and Beyoncé — but her net worth is way lower than theirs, according to Money Nation.
Her net worth was roughly $43 million as of December, according to its estimation. That's based on music sales, concert and YouTube earnings, and  investments, taxes and expenses factored in, Money Nation reported. Forbes estimated Bey's net worth at $250 million in May and Swift's at $200 million.
Read more:
Money Nation credited Adele's relatively weak net worth to a few factors, including she doesn't do endorsements, she's in the whopping 56% British tax bracket and she canceled a U.S. concert tour in 2011 due to a vocal ailment.
At the same time, Adele's first single off 25, "Hello," broke several records following its November release, including the fastest music video to hit 1 billion views on Vevo, and the album itself remained at the No. 1 spot on Billboard's 200 chart for five consecutive weeks after its release and destroyed United States record sales.
Of course, it's all relative — most would do questionable things for $43 million and Adele's sprawling England mansion that was featured on 60 Minutes in 2012.