Justin Bieber Music Videos: A Roundup of Videos That Show How Much Bieber Has Grown Up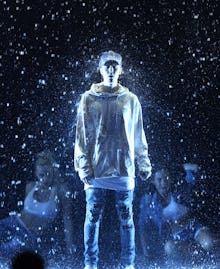 Matt Sayles/AP
If Rihanna is music's notorious good girl gone bad, the same can easily be said about Justin Bieber. After a few videos of the young, wide-eyed Canadian boy strumming his guitar and singing the likes of Chris Brown and Justin Timberlake went viral, Bieber's world changed forever — along with his image. 
Gone were the bowl haircuts and acoustic guitar covers; in came six-pack abs and a variety of women, including fellow artist Selena Gomez and model Hailey Baldwin. As the singer's 15 seconds of fame turned into a prosperous career and Bieber became a household name, a generation of music fans and social media users alike grew up alongside the 21-year-old, witnessing his many downfalls and triumphs. 
Read more:
There's even a clear distinction in Bieber's maturity and growth when looking at the progression of his music videos. Whereas a young, brunette Bieber is courting a girl at a house party in "One Time," the first single and music video from his début album My World, a tattooed and bleach-blond Biebs seems to be contemplating all of his life choices that led him to being surrounded by a pack of beautiful women in the middle of a desert in "Purpose."
The once-adorable Bieber can be seen partaking in several typical preteen activities throughout "One Time," playing video games with his friend, flirting with a love interest over text messages and jumping up and down at a house party. 
Then came 2010, and Bieber was back with a slew of new hits. Still a fresh-faced teenager with a solid moral compass, the Biebs was building a legion of fans at the turn of the decade and solicited the help of Ludacris for "Baby."
2011 showed yet another soft side of Bieber, and was also arguably the last time Bieber appeared emotionally available in his career. "Mistletoe" was Biebs' attempt at a Christmastime hit, and with over 200 million views to date, it's safe to say it was a viral success. Bieber cut the hair in 2011, but still kept his brown bangs and boyish charm.
2012 marked a turning point in Bieber's career, when the singer went from having an innocent, little boy look to that of a teen heartthrob. Bieber played the guy every woman wants but can't have in "Boyfriend," while the artist recruited yet another rap heavyweight, Big Sean,  for a club jam titled "As Long As You Love Me."
Then came 2013, and Bieber was ready to let loose — literally. The artist appeared in Maejor Ali's "Lolly" music video along with Juicy J, easily his most erotic song and video yet. The video shows a shirtless Bieber surrounded by women licking gigantic lollipops. His hair is even shorter, his face appearing older and skinnier — a matured and reckless version of the once boyish Bieber fans came to know and love. Also, is that a hint of blond in Bieber's new do?
Though "Confident" was released in December 2013, the accompanying music video was Bieber's most-watched release throughout 2014 with nearly 200 million YouTube views to date. The video shows a new confidence in Bieber, who isn't afraid to hit on any woman who catches his eye. His hair grew longer and taller, and appears to be even more blond, though his hair style was frequently receiving new looks. 
Bieber then made a radical transition in 2015, switching up his entire style several times, releasing the album Purpose and dropping 13 new music videos all at once. While some of the viral hits focused on dance numbers and quick moves, others highlighted Bieber's new look, with blond hair falling past his ears and fresh tattoos covering his body. Bieber bleached his hair fully blond before shooting the accompanying music videos for the album, and put effort into creating an entirely new style to his videos. 
The videos are his sexiest yet, with models and sexually charged choreography found in just about every single one. It's all part of the artist's career trajectory from the once-golden boy of music to this generation's most badass player yet. It's Bieber's world, and fans are all just waiting for the next music video to drop.