Will Cara Delevingne Model Again? What We Know About 'Suicide Squad' Star's Career Plans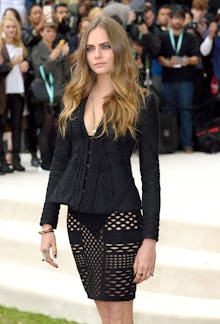 Karwai Tang/Getty Images
Cara Delevingne, and Hollywood's most recognizable eyebrows, have gained significant steam in the film industry, with upcoming roles in the likes of DC Comics' Suicide Squad, London Fields and the forthcoming sci-fi filmValerian and the City of a Thousand Planets. However, Delevingne's initial claim to fame was her work as a model, which earned her Model of the Year awards in her native Britain, among other accolades. 
With this increased emphasis on film roles, though, will Delevingne make a return to the runway in the near future? It seems unlikely, given her public disdain of the industry. 
Read more:
Delevingne's big film break — and first tangible move away from the modeling industry — was in the movie adaptation of John Green's Paper Towns. She takes the role of Margo Roth Spiegelman, the center of fixation for the lead character Quentin (Nat Wolff), who is determined to find her after she leaves their hometown. In a New York Times profile of Delevingne leading up to the release of Paper Towns, she said modeling was never a goal of hers and it was "killing her soul."
"Modeling was never a dream of mine," Delevingne said. "But when I start something, I want to prove people wrong. I thought: I'm going to smash this as hard as I can."
She had struggled with the sexually suggestive poses required in modeling, beginning at a young age when she started out. "I am a bit of a feminist and it makes me feel sick," Delevingne told the Times of London. "It's horrible and it's disgusting. [We're talking about] young girls. You start when you are really young and you do, you get subjected to ... not great stuff." 
However, even getting the role of Margo was an arduous process for Delevingne. According to the Times, she had to compete with roughly 150 to 200 actresses, and was asked by director Jake Schreier to ad-lib some lines alongside Wolff. It went so well, though, that by the end of the audition, she and Wolff left in tears. 
Though the film received mixed reviews from critics, Delevingne's portrayal of Margo was well-received. "The real find here is Delevingne, an English actress who, with her subtly smoky voice and piercing gaze, makes the girl of Quentin's fantasies a singularly charismatic presence, all the more so due to her limited screen time," Justin Chang wrote for Variety. "What ultimately happens to Margo may seem somewhat ambiguous by film's end, but on the evidence of her work here, this striking actress is here to stay."
What's more, she's since severed ties with Storm Model Management — with whom she's worked since she began her modeling career — according to Harper's Bazaar. She is, however, still under contract with the likes of Burberry, Mango and YSL, according to the report. 
As a result, Delevingne looks to continue her aspiring career in acting and take a similar path to Charlize Theron, also a former model before honing in on Hollywood full-time. "People can put you in whatever box: model, whatever," she told the Times. "But if I just keep going and actually do it well, which I hope I can, then I hope people will give me more movies — and I'll win an Oscar!"