Politwoops Is Back: Every Deleted Tweet by 2016 Candidates Will Be Preserved Here Forever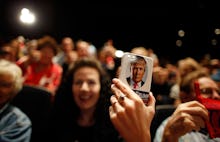 The Sunlight Foundation's Politwoops, a service that tracks deleted tweets from every senator, congressman, presidential candidate and governor, is finally back. The service was shut down in August, but international outcry and a change in leadership at Twitter brought it back.
You can call Twitter the world's public square, a tool for revolutionaries, one giant cocktail party or an egotistical circle jerk. More than anything, though, Twitter is the best place on the Web to watch public figures embarrass themselves and, occasionally, say what they really think before a PR team can stuff it under the rug.
Now, the gaffes and missteps along the way to the 2016 race and beyond will be preserved once again. This manual retweet of Donald Trump making fun of Iowa voters? Preserved. This photo of Hillary shaking hands with a guy sporting a tattoo that says "white"? Saved.
"In the future we hope to expand that to executive branch officials and state legislators," Politwoops announced on its blog Tuesday. "We're also planning to implement a filtering system to more easily weed out simple errors and typos."
The history: Politwoops and its international counterpart, Diplotwoops, were inexplicably taken down by Twitter in August, cut off from API access. 
Twitter explained that politicians were entitled to the same privacy as normal Twitter users. "Imagine how nerve-racking — terrifying, even — tweeting would be if it was immutable and irrevocable?" Twitter wrote to the Open State Foundation when it first shut down Politwoops. (That's an odd statement coming from a service that doesn't allow you to edit your posts.) "No one user is more deserving of that ability than another."
Privacy activists and open-government advocates were incensed that Twitter was cutting off access to an organization trying to bring accountability to government.
"Twitter stands for speaking truth to power." — Jack Dorsey
"Unfortunately, Twitter's decision to pull the plug on Politwoops is a reminder of how the Internet isn't truly a public square," Sunlight Foundation president Christopher Gates wrote at the time. "Our shared conversations are increasingly taking place in privately owned and managed walled gardens, which means that the politics that occur in such conversations are subject to private rules."
Then, when Jack Dorsey returned as CEO of Twitter, he apologized for the takedown, saying, "Twitter stands for speaking truth to power," and announcing that Politwoops would be restored.
Gates' warning still stands, reminding us that even on an allegedly public space like Twitter, it's still a private company with corporate customers influencing the rules. But at least for this election cycle, it appears as though the world's public square is going to continue on as the world's public ledger as well.