The Weeknd's Hair: It's More Than an Homage to Basquiat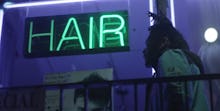 Mic/YouTube
When you think of the Weeknd, you might wonder about the missing 'e' or think of his 2015 chart-toppers, but more often than not, you picture his distinctive hairstyle. In an interview with Rolling Stone in October, the Canadian R&B singer, born Abel Tesfaye, revealed that his hairstyle was partially inspired by Brooklyn graffiti artist, Jean-Michel Basquiat. While the hair definitely has a passing resemblance to Basquiat, the style was nurtured by some of the Weeknd's grander ambitions.
"I want to be remembered as iconic and different," Tesfaye said, before conceding that he would cut it all off if it started interfering with his eyesight, and worrying that the resulting cut would be "boring." 
Read more
Described as "party in the front [and] party in the back" by Rolling Stone's Josh Eells, the Weeknd's multi-"quadrant" hairstyle is anything but boring and has even intrigued fellow chart-topper Taylor Swift. Whether her greeting – as well as a general obsession with his hair – is problematic or not, Tesfaye's hairstyle is very much part of his brand; how else would you dress up as him for Halloween? Here are 10 images that best display the singer's iconic look.
2. "Pretty" from 2013's Kiss Land
3. ...as well as the album cover to Kiss Land
4. The Weeknd modeling Kanye West's 2015 Adidas collection for GQ
5. "Often" from 2015's Beauty Behind The Madness
6. "The Hills" from 2015's Beauty Behind The Madness
7. "Can't Feel My Face" from 2015's Beauty Behind The Madness
8. "Earned It" from 2015's Fifty Shades of Grey (Original Motion Picture Soundtrack)
9. The Weeknd's September 2015 Billboard cover
10. The album cover of 2012's Trilogy – a compilation of his first three EPs, House of Balloons, Thursday and Echoes of Silence released throughout 2011