I Tried to Make My Relationship Like Beyoncé and Jay Z's — Here's What Happened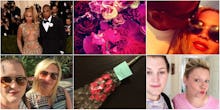 If there's one thing that's better than true love, it's Beyoncé and Jay Z-style love. Their romance is extravagant, elaborate and at many times over the top — after all, not every man sends his wife 10,000 roses to celebrate her Super Bowl performance or drops more than $500,000 on a solid gold rocking horse for her daughter. Basically, they're the definition of #RelationshipGoals. (Seriously, even Nicki Minaj wants what Bey and Jay have).
I'm happily married and am lucky that I still feel so "drunk in love" (sorry, I had to) with my partner Gail after nearly six years together, and I'm with Beyoncé and Jay Z that a nice little token of your affection every once in a while goes a long way. But while they're working with endless cash and serious celeb connects, I'm a freelance writer and editor who still clips coupons and has never even seen a Maybach in real life, let alone owned one. 
It's clear that Beyoncé and Jay Z are on top of the world, both professionally and as a couple. But can any of us actually achieve that level of out-of-this-world perfection — or even a pared-down version of it — in real life? I decided to find out.
Step 1: Eat like Bey and Jay. 
Obviously it's important to maintain a healthy lifestyle, and having a partner to encourage and support you on your fitness journey makes things a whole lot easier. Beyoncé and Jay Z know this better than anyone: Remember when they went vegan together for 22 days because celebrity trainer/nutritionist Marco Borges convinced them it was the path to nirvana (and because they wanted to market the ridiculously pricy vegan home delivery service to match)? 
This wasn't going to happen in my own relationship, as one of the things that bonds Gail and me is our shared belief that meat and dairy are two of the finest (and most delicious) food groups in existence. Thankfully, we could take comfort in knowing that Beyoncé cheated on her own diet and ate meat anyway, so I figured we could half-ass it and get the same effect.
There was no way I was paying for the 22-day challenge — $120 for milkshakes and glorified protein bars? Nah, I'm good — but there was also no way I was going to convince Gail to go vegan for even one full day. In the end, we compromised and ordered dinner from a local vegetarian/vegan Asian restaurant. Eventually, my S.O. demanded a trip to the supermarket down the street for her favorite vegan staple: oven fries. Bey and Jay would have done the same, right?
Step 2: Perform elaborate romantic gestures like Bey and Jay. 
There is perhaps no more classically romantic gesture than giving flowers to the one you love. Jay Z clearly knows this, and in order to show his love and support for Bey's halftime performance at the Super Bowl on Sunday, he reportedly sent her 10,000 roses a few hours before she took the stage. (Logistics aside, the gesture raises a few questions — for starters, where did they put them all? And did Jay realize that Kanye West already kinda did this for Kim?).
I've certainly given and received my fair share of flowers over the years, and while I love them and think they're really pretty, they also cost way too much money for something that tends to die within a week (or sooner if the florist forgets to staple on a packet of flower water). Still, flowers are a traditional token of affection, so I didn't want to skip this completely.
The solution? Two dozen fake roses from Amazon that will not only last forever, but only set me back nine bucks. That's not being cheap, it's smart, especially since we live in New York and can barely find room for one vase, let alone however many you'd need for 10,000 roses.
Step 3: Lavish your kids with gifts like Bey and Jay. 
In 2012, it was rumored that Jay Z bought Beyoncé a $600,000 solid gold rocking horse. Technically, this was actually a gift for their daughter, Blue Ivy, who was still an infant then and likely would have found actually riding the thing a little bit difficult. 
By contrast, Gail has a grown-up son from a previous relationship, and while we've made sure he's had everything he's wanted over the years (mostly PlayStation games and football tickets), it's safe to say the cost was a bit more modest. It's unlikely that I'll ever see $600,000 in my lifetime, let alone spend that amount. But Jay's push present for Bey was so opulent that I had to try to replicate it, albeit within my limited budget.
Thankfully, we live in the age of Google, so all it took was a search for "golden horse drawing" and I was all set to print it out. Except my printer didn't want to cooperate and I had to spend 20 minutes troubleshooting it before I finally got it to work. After covering it in glitter pen and adding a personalized message — "Babe: I heart you $600,000 worth" — I'd rather have this drawing than an actual gold rocking horse I couldn't use. It's hanging proudly on our fridge.
Step 4: Vacation like Bey and Jay. 
One thing rich people all seem to have in common is their love of yachts. Something about having more money than you know what to do with just makes renting or buying a luxury boat seem like an intoxicating idea. Last year, it was rumored that Jay Z had rented a $900,000 a week luxury yacht for him and Beyoncé to sail around the Mediterranean on — something that has apparently become an annual tradition for them. Must be nice!
Since I have a job that means I can't disappear for a week on end to yacht it up, I had to get a bit creative. Just because we can't afford an extravagant Mediterranean cruise doesn't mean we couldn't also hit the high seas, only slightly closer to home. As we'd already planned a mini-trip to Vancouver, one of our favorite locations, I made sure we were booked for a whale-watching boat tour that would take us just far enough off-shore to catch up with some orcas. For us, that was way more exciting than getting drunk and sunburnt in Italy anytime.
So is it possible to live like Jay Z and Beyoncé? Sure, if you're rich. But imitating their relationship is also about way more than money — it's about expressing your love in whichever way is within your means. 
For Gail's part, she loved receiving these tokens of affection, especially the silly ones. One of the things we value most in our relationship is our sense of humor, and she loves a good laugh way more than she'd ever care about a $900,000 yacht getaway (though she probably wouldn't turn it down if it was offered to her).
In trying to emulate Jay and Bey's relationship, I paid a lot more attention to being creative about showing my feelings for Gail in ways that weren't particularly time consuming, but were thoughtful and a lot of fun. After all, it's the thought that counts, and the longer you spend together, the more important it is to keep thinking of new ways to keep that love alive, no matter the cost.