What Are Beyoncé and Jay Z's Net Worth? Hip-Hop's Royal Couple Pulls in Serious Cash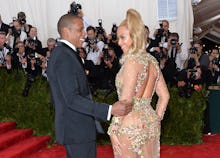 Evan Agostini/AP
Is Beyoncé a black Bill Gates in the making? In new single "Formation," she says she might be. It's not outside the realm of possibility but she has a long way to go before she amasses that kind of fortune. Forbes places Gates' real-time net worth at $75 billion, as of Feb. 10; Beyoncé's is an estimated $450 million. 
Which is nothing to sneeze at. With that money, Beyoncé could buy more than 250 million bottles of Original Louisiana Hot Sauce to stash in her bag. (Swag.)
Read more:
She's no Bill Gates (yet), but when it comes to her finances, Beyoncé is doing just fine. According to Forbes, she made $54.5 million in 2015 alone. And then there's Jay Z to consider: His net worth is estimated at $650 million, which means that the Carters are worth over $1 billion together. (Or, 571,428,571 and-a-half bottles of hot sauce). 
Will hip-hop's royal family become billionaires? If the above estimations are correct, they already are.
However, Jay Z's record label, Roc Nation, reportedly faces lawsuits that could prove costly. And then there's Tidal, the subscription-only music streaming service that Jay Z bought in March 2015, which isn't doing so hot. It's lost a number of its high-ranking executives and hasn't gained traction with listeners in a way that suggests long-term viability. It, too, has attracted lawsuits — in July, Lil Wayne sued the company for $50 million. 
But the couple has plenty of successful (and it does seem unfair to say that Tidal is unsuccessful at this still early stage) business endeavors between them. They both enjoy highly lucrative music careers: Their 2014 "On the Run" tour pulled in over $100 million in ticket sales. Then there are album sales: Beyoncé's hugely popular, surprise 2013 release sold almost 900,000 copies worldwide in its first three days. 
And then there are the endorsements. In 2013, Beyoncé signed a $50 million, multi-year deal with Pepsi — and that's just one of the brands she's endorsed over the years.
Will Beyoncé become the next Bill Gates? Time will tell, but it doesn't seem unreasonable to imagine that, in 25 years, we'll be talking about young artists as "the next Beyoncé." She's in a category all her own.