Who Votes for the Grammys? A Quick Guide to the Academy's Voting Process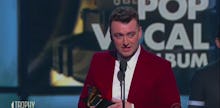 Mic/YouTube
The 58th annual Grammy Awards will air on Monday night and "music's biggest night" will reveal the best artists, songs and albums in the year of music. Since the music industry as a whole places such importance on the awards, who actually decides which artists deserve recognition? 
According to the Grammys' official website, the voting process is a tiered system. It first begins with Recording Academy members and record companies submitting music and music videos for consideration. The content is then reviewed by more than 150 experts in the industry, who then determine if the works actually belong in their submitted genre or category: "rock, R&B, rap, country, jazz, gospel, new age, latin and classical, among others." 
Read more: 
With qualifying submissions, the Academy members will go through first-ballot voting in "good dues standing," and are recommended to vote in their specific areas of expertise. In other words, it's preferred a Country singer would make selections for Country music, rather than say, Classical. However, each voting member is granted votes in up to 20 categories and members don't always vote for their respective fields of expertise. Voters have sway over genre nominations and the four major, general fields: album of the year, record of the year, song of the year and best new artist. Independent marketing firm Deloitte is tasked to organize and catalog the results. Ultimately, Deloitte will provide the results in envelopes on the day of the ceremony — hence, the opening cards during the broadcast. 
"Bottom line: the vast majority of the nominations are chosen by people who have little real expertise in a given field," Rob Kenner — a Grammy voting member — wrote for Complex. "I refrained from voting in heavy metal and classical because I know very little about those genres. But I could have if I wanted to, and that strikes me as a problem." 
Whether or not the voting system is perfect, this year's Grammys will undoubtedly garner millions of viewers on CBS — as they always do — and several potentially highlight performances from a variety of artists. 
Check out an infographic about the Grammy voting process, which can be viewed in full on the Academy's official website.