Will Facebook Ever Start Charging Users for Its Service? Here's What the Company Says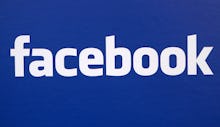 Craig Ruttle/AP
Every so often, a chain message will go viral on Facebook warning users to share a status or face being charged to use the social media service. The spam post typically appears in capitalized letters and reads along the lines of, "IF YOU COPY THIS ON YOUR WALL YOUR ICON WILL TURN BLUE AND FACEBOOK WILL BE FREE FOR YOU. PLEASE PASS THIS MESSAGE ON IF NOT YOUR ACCOUNT WILL BE DELETED IF YOU DO NOT PAY."
Luckily, however, Facebook doesn't have any plans on charging customers anytime soon, regardless of whether they choose to share a status or not.
Read more: 
In response to one of these viral messages in 2011, Facebook posted a rather simple response: "A rumor on the internet caught our attention," the company wrote on its own Facebook profile in September 2011, ABC News reported. "We have no plans to charge for Facebook. It's free and always will be."
A similar message appears when users visit the Facebook homepage to log in or sign up for the site. The frequently asked question, "Will Facebook ever charge for service?" appears in Facebook's online help center, with the following response: "No. We will always keep Facebook a free service for everyone."
If Facebook did decide to start charging its users, however, it wouldn't be the first social media site to do so. LinkedIn, the popular service for business professionals, charges users for a premium version, while dating sites like Match.com are known to require payment for certain features, like chatting with other users. 
It doesn't appear as though Facebook is interested in exploring this business model, however, as the company has continued researching alternative systems for revenue, including charging users for gaming credits, as well as dabbling in the world of advertising networks. 
Facebook has been trying to prove its free-service business model is successful in the long term ever since its turbulent introduction into public trading in 2012. In 2015, the company surpassed retail giant Wal-Mart in worth, being valued at almost $245 billion, according to CNN Money. 
So, don't worry about having to open up your wallet next time you want to check out what's happening with your Facebook News Feed — Mark Zuckerberg has got you covered.