Is Kanye West Going to Be on 'Keeping Up With the Kardashians?' Singer Mostly MIA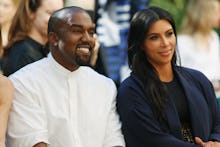 Jeff Vespa/Getty Images
Despite his aggressive presence on social media, Chicago-bred rapper Kanye West has been palpably absent from the reality television show Keeping Up With the Kardashians, in which his wife Kim Kardashian-West stars. Though the heavyweight recording artist has made appearances on the show in years past, the cameos were few and far between. There are few indications that West will be a staple on the show for the foreseeable future. 
"He has made several brief appearances on the Kardashian reality shows, but wants nothing to do with future filming," an unnamed source told RadarOnline in 2013. "Kanye's team believes it's bad for his image and brand to appear on a reality show because it makes him look cheap. And, Kim isn't pushing the issue at all as she knows Kanye won't bend on it."
Read more: 
Yet for a brief and wondrously awkward time, the world got to experience West on the family's reality show. In one 2012 episode, West appeared on the to help give Kardashian a "closet makeover."
In another 2014  episode, West appears when the couple runs through their wedding rehearsal.
Yet despite West distancing himself from the show since those early appearances, he is a big supporter of both his wife and of the Keeping Up With the Kardashians, according to an October 2015 interview with Show Studio  
"I feel proud to be in a family that has so many people breaking ground for the generations to come," West said in the interview. "I just feel like whoa reality show... like that's so fucking new of an art form to the point where my wife and their family should have had plenty of Emmy's by now."
And judging by his diction, it's a point about which West feels strongly:
"Reality shows are considered to be like rap was when the Mondrian wouldn't let Run DMC and motherfucking Will Smith stay there because they were rappers... or the idea of a reality star not being allowed into a fashion show or not being nominated for their show even if it's the longest running and the most popular and everybody I know watches it and shit."
Speaking to the New York Times in 2013, West explained that his decision not to appear on the reality show ties back to the episode in which he helps Kardashian go through her closet. According to West, he faced a lot of backlash over the episode from those who perceived it in a negative light.
"It's hard when people read things in a lot of different ways," West told the Times. "You know, the amount of backlash I got from it is when I decided to not be on the show anymore. And it's not that I have an issue with the show; I just have an issue with the amount of backlash that I get. Because I just see like, an amazing person that I'm in love with that I want to help."
Though verbally supportive of his spouse, in the near term, it doesn't seem as though West will be making any such support physically on Keeping Up With The Kardashians. And for the West-Kardashian clan, the big-time rapper's not the only one absent from the reality show's limelight. According sources who spoke to TMZ, Saint West, the couple's second child and new son, Saint West, will not appear regularly on the show for the time being.