Bernie Sanders Can't Think of a Single Nice Thing to Say About Donald Trump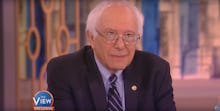 Fresh off a massive victory in Tuesday's New Hampshire primary, Vermont Sen. Bernie Sanders appeared on The View, and it would seem the win emboldened him to speak freely — even more freely than usual.
When the show hosts asked him to say one nice thing about the other candidates, the Democrat varied in his degree of pointedness.
Ohio Gov. John Kasich, Sanders said, is an "old friend." And he called former secretary of state and primary rival Hillary Clinton "intelligent."
But when it came to the two Republicans leading national polls, Sanders ditched the filter. 
Asked to describe Texas Sen. Ted Cruz, Sanders couldn't even come up with a faux compliment, arriving at "loud!"
But when it came to Donald Trump, who nabbed the Republican vote in New Hampshire, the self-declared democratic socialist was at an uncharacteristic loss for words. He eventually settled on irony, calling Trump "humble." (While Trump suggested in one of the Republican debates that his Secret Service code name should be "HUMBLE," the agency settled on the less-subjective "MOGUL.")
It wasn't the only acute criticism Sanders served up. Asked by co-host Joy Behar about the potential presidential bid of former New York City Mayor Michael Bloomberg — who said he's considering running as an independent — Sanders responded by saying the mayor might only succeed in stealing potential Democratic votes.
"If the result was that we elected some right-wing Republican as president of the United States ... I would hope Mayor Bloomberg would give some thought to that," he said.
h/t Raw Story