PBS Democratic Debate 2016: Start Time and Channel for Thursday's Debate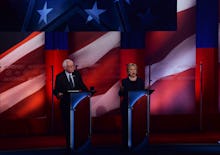 JEWEL SAMAD/Getty Images
After presidential candidate Vermont Sen. Bernie Sanders defeated former Secretary of State Hillary Clinton in the New Hampshire Democratic primary, the two candidates will head to Wisconsin for their next showdown. The 2016 Democratic presidential debate will take place at the University of Wisconsin-Milwaukee on Thursday at 9 p.m. EST. The debate will air on PBS stations and will be available for live-stream on the PBS NewsHour website. 
Co-sponsored by PBS and the Wisconsin Democratic Party, the Thursday debate will feature the remaining Democratic presidential candidates — Clinton and Sanders. The fifth Democratic debate will be moderated by PBS NewsHour anchors Gwen Ifill and Judy Woodruff. CNN will also broadcast the event at the same time, an issue Rick Schneider, president of NewsHour Productions, said he has no problem with. Of course, CNN will be paying PBS NewsHour and the public television channel WETA, to share the airwaves.
Read more:
"I think the PBS audience will watch on their PBS station, and CNN will expose our debate to [CNN's] audience,"  Schneider told the Washington Post. "It will raise awareness of PBS NewsHour and our anchors ... I'm not worried that it will cannibalize our audience." 
The next Republican debate will be hosted by CBS, and will take place in Greenville, South Carolina, on Saturday. After Thursday's debate, the next Democratic debate hosted by CNN, will take place in Flint, Michigan, the city suffering from an ongoing water crisis.