Money Buys a Minister of Happiness for the United Arab Emirates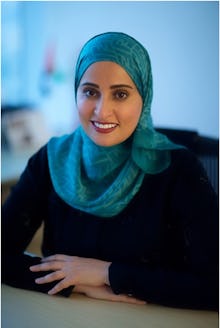 If gold vending machines aren't enough to bring joy to the people of the United Arab Emirates, perhaps the government's latest move will. 
On Wednesday, UAE Prime Minister Sheikh Mohammed appointed the country's first-ever minister of happiness, Ohood Al Roumi. The designation came with Mohammed's announcement of the entire 12th UAE cabinet on his Twitter page, but he took a moment to talk about the country's new leadership position. 
"National happiness isn't a wish," Mohammed tweeted. "Plans, projects, programs, indices will inform the work of our ministries to achieve happiness."
In case you're wondering what kind of credentials you need to be in charge of an entire nation's happiness, here are Al Roumi's: 
She's already been serving as the director-general of the prime minister's office, a role she will continue as minister of happiness, according to Al Jazeera.  Last year, Al Roumi also became the first Arab member of the United Nations Foundation's Global Entrepreneurship Council. 
Currently, the UAE ranks 21st on LiveScience's list of the world's happiest countries. To gather the results for the report, researchers interviewed over 146,000 people from around the world and asked them to evaluate their social relationships, their sense of purpose, community involvement, financial circumstances and physical health. LiveScience established the rankings based on the percent of the population reporting that they were "thriving" in three or more categories — 30.8% for the UAE. 
Mohammed didn't only put his confidence in Al Roumi for bringing positive change to the country. Overall, the new cabinet boasts five new women ministers, the youngest of which is 22-year-old Shamma Al Mazrui as minister of state for youth affairs. Mohammed tweeted, "The energy of youth will fuel our government in future."