Women With Disabilities Are More Likely to Die of Breast Cancer — Here's Why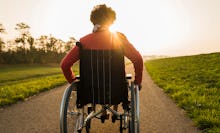 Judy Panko Reis has learned to be insistent when she goes to get a mammogram. 
"I know I'm going to need two technicians," she told Mic. "Somebody has to take the pictures, and somebody has to position my arms. And I can't stand, so I've got two issues."
Reis, a health care policy analyst, uses a wheelchair. "Often, when I make the appointment, I will try to tell the person that I use a chair, that I have a different positioning of my arms, and need another technician," she told Mic. "Often I show up, and they still don't have an extra technician."
But it could be worse, Reis said. She has the ability to speak, which means she can advocate for herself during breast cancer screenings. 
For other women with disabilities, it can be a very different story. Some, Reis said, "have had such bad experiences, they don't go back."
It's a major problem. Women with disabilities are less likely than able-bodied women to get mammograms, and they have higher rates of mortality from breast cancer than able-bodied women diagnosed at the same stage of the disease, according to the Centers for Disease Control and Prevention. 
According to a 2010 government survey, only 61% of women with a disability aged 50 to 74 had had a mammogram in the past two years — compared to 75% of women without a disability.
One 1999 study looked specifically at causes of death among people with cerebral palsy from 1986 to 1995. Researchers found that people with CP were three times more likely to die of breast cancer than the general population.
What's going on? According to Reis, there's a "perfect storm" of factors that prevent women from getting the breast cancer screening they need.
Accessibility is just the beginning. But it still poses a significant challenge — one that can begin as soon as a women leaves her house to head to the doctor's office. To get around, some women need to rely on public transportation for people with disabilities, which sometimes doesn't even show up, Reis said. Once they arrive, they may find there aren't automatic doors, ramps or elevators.
"There are amazing numbers of offices that women are supposed to attend that aren't accessible," Dr. David Roye, medical director for the Cerebral Palsy Foundation, told Mic. Both Roye and Reis are involved with the CPF's newly launched initiative to identify health care obstacles for women with disabilities and develop strategies to overcome them. "Maybe the entryway up to the exam rooms is too narrow, or the exam room is too small, or you get into the exam room and it's a fixed-height table."
This shouldn't still be happening. Established in 1990, the Americans With Disabilities Act prohibits discrimination against people with disabilities. It also mandates that people with disabilities have equal opportunity when it comes to "employment, state and local government services, public accommodations, commercial facilities and transportation," according to ADA.gov. That includes trips to the hospital and other health care facilities.
"The truth is, it is difficult to enact policy, but it's almost impossible to mandate adherence to it," Richard Ellenson, CEO of the CPF, told Mic. 
NYU Langone Medical Center has made an effort to adhere to accessible mandates. Their mammogram machines can often be lowered enough to accommodate a woman in a wheelchair, and their staff is used to recruiting two technicians to help assist with patients' mobility. In the rare occasions that a mammogram won't work, patients can screen for cancer via a breast ultrasound instead.
"It's not as accurate," Linda Moy, associate professor of radiology and breast imaging fellowship director at NYU Langone's Laura and Isaac Perlmutter Cancer Center, told Mic. "We'll try to the ultrasound with you sitting in a wheelchair, knowing it's not as helpful as a mammogram, but it's better than nothing."
But it's not enough to simply offer accessible facilities, Dr. Deborah Gaebler-Spira, director of the cerebral palsy program at the Rehabilitation Institute of Chicago, told Mic. 
Whether or not it's a good experience is "a whole other question," said Gaebler-Spira, who's also involved with data collection for the CPF's health care initiative. At the time of our conversation, Gaebler-Spira was in the process of surveying women about their mammography experiences — one of the first phases of CPF's campaign. The survey asked patients what they felt their mammogram appointments were missing.
"What they really felt they needed during the experience was for the staff to have a positive attitude," she said. Sadly, only around 58% of respondents said they'd detected a positive attitude among their mammogram providers.
"You really have to have a very well-trained technology staff that will work with women and respect them in terms of knowing their own body," Gaebler-Spira said. 
Any of these accessibility issues might dissuade a woman from returning — or from booking an appointment in the first place.
"It's a very easy thing for any woman to put off a mammogram," Reis said, "and if you factor that in with a woman who's living with severe spasticity in her arms and legs and maybe has speech and breathing issues, it's going to be an especially easy appointment not to make and follow through."
Another factor of the so-called "perfect storm"? The perception that women with disabilities couldn't possibly get breast cancer, too. It's a dangerous idea shared by doctors and patients alike. 
"A lot of providers ... don't really stop and think about the fact that women with disabilities are at risk for breast cancer," Reis told Mic. Providers need to encourage their patients to get breast cancer screenings, no matter how many other medical issues the patient is already dealing with.
Patients, themselves, may also overlook the possibility they could get breast cancer on top of their disability. It's tough to prioritize preventative breast cancer screenings when you're dealing with another ongoing health issue.
"I hear that quite often: 'I already have disabilities — what bad luck do I have to get in order to have these two things [at the same time]?'" NYU's Moy told Mic. 
Roye, of the Cerebral Palsy Foundation, explained, "In people's minds, they say, 'Yes, I need screening, but screening is so hard and so difficult to achieve that it's not my main problem — my main problem is that I have trouble walking.'"
"In people's minds, they say, 'Yes, I need screening, but screening is so hard and so difficult to achieve that it's not my main problem — my main problem is that I have trouble walking.'"
What's being done? CPF's women's health initiative, currently in its first year, is off to a good start. The campaign is currently using surveys to collect the data it needs to implement pilot research projects in year 2, according to CPF's website. The foundation's research focuses on four areas: breast screening, obstetrics, gynecology and the issues of sexuality that arise when women with disabilities transition from their teenage to adult years, Roye told Mic.
There is also the CDC's Right to Know campaign, which encourages women with disabilities to take steps to prevent breast cancer.
For years, Reis has fought "steadily and persistently" to improve health care for women with disabilities. The efforts have been "small and steady," she said, but overtime, they make a difference.
"I'm old enough to tell you, they do add up," she said.