Are the Grammys Rigged? Awards Show Voting Process Leaves a Lot to Be Desired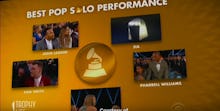 Mic/YouTube
It's February, and the month is not just about Valentine's Day — it's awards season for the music and film industry, and first up is the 58th annual Grammy Awards on Monday. The event will feature a surplus of talented artists, both up for awards and slated for performances during the broadcast. 
However, the Grammys have drawn the ire of fans and critics in the industry for an admittedly confusing voting process. While there's little to no evidence to suggest it's outright rigged by any means, the system has its fair share of flaws, and could use some retooling to properly award the artists that should be given their due, according to Slate. 
Read more: 
The full details of the Grammys' voting process can be found on their official website, but the SparkNotes version goes as follows: It is a tiered system with more than 150 experts in various fields in the industry comb through the submissions, and are allowed to vote in up to 20 categories, in addition to the four general field categories (best new artist, record of the year, song of the year, album of the year). 
However, there have been longstanding criticisms with the intricacies of the voting itself, as well as the unconventional time frame for songs and albums to warrant consideration. For example, while Adele's 25 was a resounding success, it did not fit within this year's eligibility, which was from Oct. 1, 2014, to Sept. 30, 2015, according to the Mirror. 
Furthermore, because the experts are allowed to choose up to 20 categories, it means artists, producers and the like are, technically, allowed to vote for specific genres outside their area of expertise. For example, someone with a background in R&B could vote on the best country album of the year, even though they might not have any real merits toward doing so. 
"Bottom line: the vast majority of the nominations are chosen by people who have little real expertise in a given field," Rob Kenner — a voting member of the Recording Academy — wrote for Complex. "I refrained from voting in heavy metal and classical because I know very little about those genres. But I could have if I wanted to, and that strikes me as a problem."
The other issue with the voting process is how albums are specifically set into a genre. While some albums and songs undoubtedly fall into a specific genre, there are noteworthy exceptions that can spew into several fields. For example, Iggy Azalea's début album, The New Classic, was nominated for Best Rap Album, in addition to the track "Fancy" off the album for Best Pop/Duo Group Performance. How would that be possible? It's an arbitrary decision, which voters call the "51% rule." 
"Without getting too far into it, we have what's called the '51% rule,'" Jeriel Johnson — project manager of Urban Music, for the Recording Academy — said in an interview with Urban Network Digital. "If an artist is rapping on 51% or more of an album, it's considered a rap album. With that said, I'd ask the community... 'Can you disagree that Iggy's rapping on 51% or more of her album?' Now whether or not you think she should win — my response is going to be that you should vote your voice." 
Broadly, the Grammys get it right more often than they don't. It's just that the glaring omissions garner significant attention, such as Lionel Richie's 1985 best album win for Can't Slow Down over Bruce Springsteen's Born in the U.S.A. and Prince's Purple Rain. Perhaps the best way to avoid any Grammys controversy is to just keep your name in the spotlight — by any means. 
"Because the voting base is large and semi-unregulated, the absolute best way to win a Grammy is to gain enough name recognition that the voters will know you by reputation and check off your name," Kelsey McKinney wrote for Vox. " ... A genuinely great, deep genre album will struggle to win on quality alone, because so many of the people voting in your category won't have a deep knowledge of your genre."