6 Coffee Substitutes for the Discerning Coffee Addict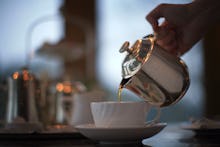 Christopher Furlong/Getty Images
Plenty of Americans need a cup (or five) of coffee to start their days: Time reported in 2015 that a survey conducted by the National Coffee Association had found that 59% of respondents drank at least one cup of coffee per day. But for those who may be concerned about the acidity in coffee, or who simply don't like the taste, here are some alternatives to java that will help you start your day with a kick.
Read more: 
1. Black Tea
According to the Mayo Clinic, a cup of brewed black tea has 14 to 70 milligrams of caffeine compared to 95 to 200 milligrams of caffeine in a cup of brewed coffee. That means you might need two or more cups of a black tea, such as English breakfast or Earl Grey, to replace your normal cup of coffee, depending on its strength.
2. Green Tea
Green tea has a different amount of caffeine in it than black tea — the Mayo Clinic puts it at 24 to 45 milligrams per cup. That means to replace a cup of coffee you might need four or more cups of green tea.
3. Bottled Iced Tea
A bottle of iced tea can have around 5 to 40 milligrams of caffeine in it, according to the Mayo Clinic, depending on what kind you're drinking. That means you might need several bottles to deliver the equivalent of a cup of coffee. And if you're not drinking unsweetened iced tea, you're probably drinking a lot of sugar too.
4. Hot Chocolate
Hot chocolate may not be the healthiest choice for a daily drink, but it's so delicious. Chocolate has caffeine in it, so a cup of cocoa might give you a little boost of energy. A grande hot chocolate at Starbucks, for example, has approximately 25 milligrams of caffeine, about as much as tea.
5. Gummy Cold Brew Cubes
OK — this suggestion is technically coffee, but these gummy bites from Nootrobox, called Go Cubes, contain 50 milligrams of caffeine each, which is comparable to about half a cup of coffee. The only thing is, you have to be into chewy coffee.
6. Energy Drinks 
Energy drinks are not without their flaws — they have been linked to some health problems — but they definitely pack a punch. Red Bull contains approximately 80 milligrams of caffeine, which is nearly equivalent to a cup of coffee. Other energy drinks can dwarf this number — such as a single, 2-ounce shot of 5-Hour Energy, which contains 200 to 207 milligrams of caffeine, according to the Mayo Clinic.