How Many Grammys Does Beyoncé Have? "Formation" Singer's First Grammy Wins Were in 2001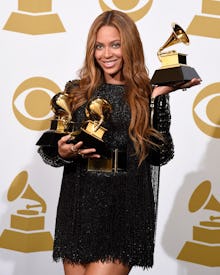 Chris Pizzello/AP
The National Academy of Recording Arts and Sciences has honored members of the music industry with the Grammy Awards since the first ceremony in 1959. With the 58th annual Grammy Awards coming up on Monday, Beyoncé might decide to attend. Or she might not. It doesn't matter, because she has won 20 Grammys. 
The Texas-born singer won her first pair of Grammys in 2001. Queen Bey and her group Destiny's Child won best R&B performance by a duo or group with vocal and best R&B song for "Say My Name."
Read more:
Beyoncé, along with the Adele, both hold the record for the most Grammys awarded to a woman in the same night. At the 2010 Grammys, Beyoncé won song of the year for "Single Ladies (Put a Ring on It)." "Single Ladies" also won Grammys for R&B song and female vocal performance. 
Additionally, Beyoncé's third studio album I Am ... Sasha Fierce won a Grammy for best contemporary R&B album, best traditional R&B vocal performance for "At Last," and best female pop vocal performance for "Halo."
Beyoncé set, at the time, the record for most wins by a woman in one night, having won six of the 10 categories in which she was nominated. 
Most recently, Beyoncé won three Grammys in 2014. Her smash hit "Drunk in Love" won best R&B song and performance. Her 2013 self-titled album won best surround sound album.
According to Billboard, Beyoncé is the most Grammy-nominated woman of all time. With her newest release of her anthem "Formation" and Sunday's performance during the Super Bowl 50 halftime show, more Grammys may be in her future.