Clinton and Sanders Battle for Black Support as Campaign Shifts Focus to South Carolina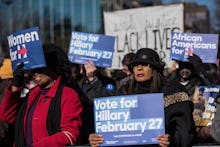 Bernie Sanders broke bread with the Rev. Al Sharpton on Wednesday — and Hillary Clinton supporters tried to break the Vermont senator's stride by slamming his record on issues that matter to minority voters.
Fresh off his commanding Tuesday win in the New Hampshire presidential primary, Sanders headed to New York to meet Sharpton for breakfast at Sylvia's, a landmark as well known as a second home for Harlem power brokers as it is for grits and greens.
Just hours later, the Clinton campaign assembled a trio of prominent black supporters for a conference call with reporters in which they derided Sanders as "missing in action" and "late to the dance" on matters of critical import to African-American voters.
The dueling storylines unfolded as Sanders and Clinton shift their focus to the Feb. 27 Democratic primary in South Carolina — a state decidedly more diverse than New Hampshire or Iowa.
A symbolic sit-down: In an interview following the meeting, Sharpton told Mic that his time with Sanders was a good start — but only a start.
"I have not come out in support of anybody," said the civil rights leader and MSNBC host. "I think [Sanders has] clearly got momentum, and what I said to him in our private breakfast is he's got to lay out what he would do on racial inequality... [on] wages and employment."
Sharpton said he felt Sanders tried to send an unmistakable message through his scheduling. It's hard to miss the symbolism of a Democratic White House hopeful holding his first big post-primary meeting with one of the nation's best-known voices on issues of race. (It's also worth noting Sylvia's isn't far from where former President Bill Clinton opened a Harlem outpost after leaving the White House.)
Late to the dance? The Clinton campaign, trying to pivot after Tuesday's takedown in New Hampshire, held a Wednesday afternoon call with reporters in which three black surrogates offered an unvarnished assessment of Sanders and his record.
In short: Sanders, they said, has been "missing in action" and has "no credibility" on matters of visceral importance to the African-American electorate.
By comparison, "Hillary Clinton has been at the dance since the beginning," Rep. Hakeem Jeffries (D-N.Y.), said on the call, which also included longtime NAACP leader Hazel Dukes and South Carolina House Minority Leader Todd Rutherford.
"Bernie Sanders has articulated a revolutionary political agenda that has caught fire throughout the country," Jeffries told Mic in a follow-up interview. "The question for the electorate to consider is whether he has the capacity to actually implement the things he's talking about during the campaign."
"The fact that Bernie Sanders has excited the millennial generation in terms of electoral participation is a good thing," Jeffries said. "His campaign should be commended for that fact, and it's a positive development for our democracy."
However, "at the end of the day, campaign rhetoric needs to be translated into policy reality. Hillary Clinton is the person who is ready, willing and able to hit the ground running on day one, assume the presidency and get things done."
Reviving the electability argument that's dogged Sanders during his meteoric rise, Jeffries — who broke from the New York Democratic establishment to back then-Sen. Barack Obama over Clinton eight years ago — said Clinton is the party's best hope of victory in November.
If the GOP nominates Donald Trump or Ted Cruz, he told Mic, "Hillary Clinton will wipe the floor with any of those candidates among independents."
Winning the support of minority voters is obviously critical to Clinton's hopes of winning the presidential nomination she lost to Obama eight years ago, after a bitter primary that left Democrats scrambling to cover their battle scars and unite behind a new standard-bearer.
Clinton also carries into the fight against Sanders not only the pressure of proving she has a renewed rationale for her second White House bid, but the optics of doing it as the wife of a man often referred to as America's "first black president."
Nothing for granted: As leaders and voters take their measure of the candidates, they'll have to answer many more questions — with specifics — regardless of momentum, track record or anything else, Sharpton told Mic.
Sanders, he said, mentioned that "he marched in the '60s with Dr. King," but that honor doesn't equate with a platform on the latest crises: "What about Flint now? What about police brutality now?"
As candidates hit the trail again on the very day the federal government announced legal action against Ferguson, Missouri, for trying to revise an agreement regulating its treatment of minorities and the poor, the Democratic campaign can now be seen as a whole new landscape.
"People are going to judge you on the issues that you know about and not the issues that you did a long time ago," Sharpton said.
The Democratic candidates face off in their next televised debate on Thursday in Milwaukee.