What Song Will Adele Sing at the Grammys?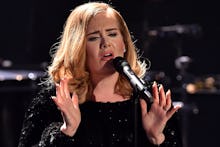 Sascha Steinbach/Getty Images
It's happening. Adele is giving her first Grammys performance since 2012 on Monday, and with a collection of coveted music on her latest platinum album 25, the burning, unanswered question of which she'll perform is enough to keep fans up at night.
A questionable report from HeadlinePlanet said the singer's music label Columbia Records already "confirmed"she'll perform "When We Were Young" at the show, according to the Inquisitr, but rumors should be taken with a grain of salt. Also, considering Adele performed her entire never-before-heard album at an extremely exclusive concert a week before its release, she's far from predictable. 
Read more:
At the same time, Adele did perform one of her biggest hits "Rolling in the Deep" at the 2012 Grammys, which would indicate she'll perform one of her two singles off 25, "Hello" or "When We Were Young." We'll have to wait five days to find out — if we survive the suspense. 
She officially released "When We Were Young" as a single Feb. 5, which essentially just means it's now available to stream on Spotify since it's already been played out on the radio over the past few months. The cover art of a young, toothless Adele is super cute though.
Here's Adele's 2012 Grammys performance in the meantime: